Former Toledo Men's Basketball Player to Begin Pro Career in North Macedonia
---
Former University of Toledo men's basketball forward Willie Jackson will continue his career at the professional level with KK Kozuv in North Macedonia.
"I think this is a very good opportunity for Willie to experience what life is like in another part of the world," Toledo Head Men's Basketball Coach Tod said. "Willie has been an elite rebounder at the high school and collegiate level, and I believe that will continue as a pro. After seeing Willie grow a great deal as a player and as a person in our program, I'm excited to see what the future holds for him."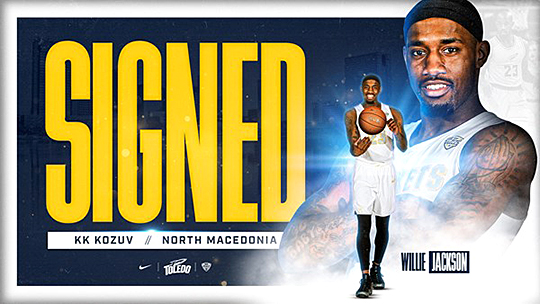 A 6-foot-6, 212-pound forward, Jackson averaged a double-double (12.3 points per game, 12.0 rebounds per game) and was one of the nation's top rebounders in his final season as a Rocket. He was the only player in the MAC to average double digits in rebounding and ranked third nationally. He led the Rockets with a 49.3 field-goal percentage and also tied for sixth in the nation with 19 double-doubles.
Jackson's former teammate, Luke Knapke, signed a contract to play professionally in Belgium in April.
Other former Toledo men's basketball players who are playing professional basketball are Nathan Boothe (Germany), Tre'Shaun Fletcher (Italy), Steve Taylor Jr. (Italy), J.D. Weatherspoon (Japan) and Jonathan Williams (Poland).