College of Business and Innovation Virtual Town Hall Aug. 14
---
The University of Toledo College of Business and Innovation Alumni Affiliate will host a virtual town hall Friday, Aug. 14, at noon.
Dr. Anne L. Balazs, dean of the College of Business and Innovation, will host the event and give an update on the college.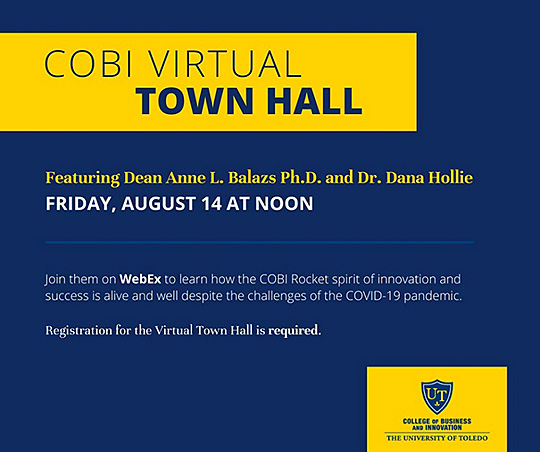 In addition, Dr. Dana Hollie, the Alan H. and Karen A. Barry Endowed Professor of Accounting and the UToledo Faculty Athletics Representative, will discuss her recently completed fellowship with the U.S. Securities and Exchange Commission, where she was a visiting scholar in the Division of Economic and Risk Analysis.
Register to attend the virtual town hall.
For more information, contact Paul Smith, assistant director of alumni engagement, at paul.smith4@utoledo.edu or 419.530.5378.
Click to access the login or register cheese