Community invited to free movie night at Glass Bowl
---
The University of Toledo will host a free movie night Friday, Aug. 19, in the Glass Bowl. Rocket fans of all ages are invited to watch "Toy Story" (PG) on the football field.
The gates will open at 6:30 p.m., and the movie is scheduled to start at 8 p.m.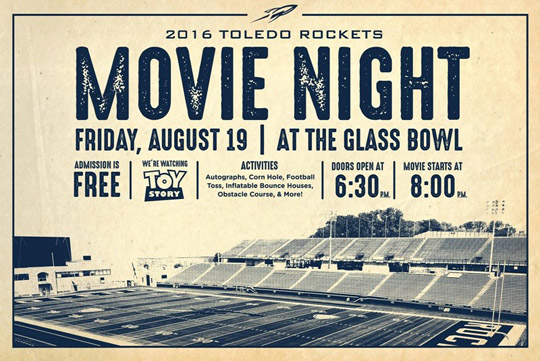 The UT football and volleyball teams will be in attendance, and fans can meet the student-athletes and get their autographs.
Fans also can enjoy a variety of in-stadium activities, including coloring stations, inflatable bounce houses and obstacle courses, corn hole and more.
The concession stands will be open on the west concourse, but fans also are allowed to bring their own food and drinks into the stadium.
Click to access the login or register cheese