UT FacebookApp launched
---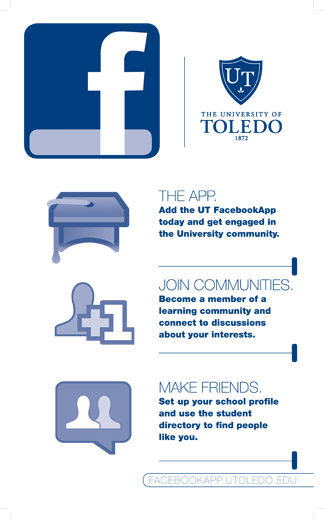 Connecting with students and encouraging involvement — UT has an app for that.
"The University of Toledo is always looking for innovative ways to engage students early in their academic journey, and the UT FacebookApp does just that," said Angela Paprocki, division director of student success and retention.
The implementation of the FacebookApp has been a joint effort between the Learning Collaborative and the College of Innovative Learning.
"The goal is to help students connect with each other early, to foster academic interest through learning communities, and increase overall student engagement," Paprocki said.
"The UT FacebookApp leverages a popular social media platform, as it was originally conceived in the academic environment, to connect students with common academic and social interests," she said. "Using the UT FacebookApp, the University is intentionally trying to promote peer connections, create a sense of belonging, encourage interest in learning communities, and enhance students' own interests. Connecting students who may be in the same major, live in the same city or reside in the same residence hall fosters the student engagement process."
Not only can the UT FacebookApp provide an opportunity to welcome new students and ease their transitions to college, but it also can benefit undergraduate students as they progress through their academic journeys at the University.
"Student engagement can lead to increased student success and retention. Research shows that students who engage early with their University and develop meaningful relationships are more likely to complete their degrees than their peers who do not," Paprocki said.
Undergraduate students will be invited to join via their Rocket emails; however, if a student inadvertently deletes the email and would still like to add the app, he or she can go to FacebookApp.utoledo.edu to join the community.
"You may be wondering what sets the UT FacebookApp apart from various other UT Facebook pages. Facebook pages are designed to disseminate information to a wider audience and are often used as a marketing channel, much like a website," Paprocki explained. "On the other hand, Schools on Facebook is an application designed to build community amongst college students, driving friendship and engaging students with the University throughout their academic journey.
"These efforts are very different but complement each other well."
Additionally, the UT FacebookApp provides a safe space for students to connect and interact, since only admitted and enrolled students can add it. This also ensures student information is kept private, secure and remains FERPA-compliant.
For inquiries regarding the UT FacebookApp, contact FacebookApp@utoledo.edu.
UT FacebookApp is a third-party application created by Inigral, which has allowed the University to create a private, branded social network for UT students that will engage them in ways Facebook pages and groups alone cannot.
Inigral was named one of the 10 most innovative companies in education by Fast Co. "for creating Facebook apps that help students stay in college by connecting them to a community of students who share their interests." Inigral also received the first-ever venture investment from the Gates Foundation. Learn more about the company at www.fastcompany.com.