Bob Nichols Court in Savage Arena to Feature New Design
---
The University of Toledo's Savage Arena will feature a new design on Bob Nichols Court for the upcoming men's basketball, women's basketball and women's volleyball seasons.


The design change to the court is the first since a slight modification in 2013 from the original surface when the new Savage Arena debuted in 2008. The entire process took approximately two weeks and was performed by a Toledo-area business, Robert's Floors.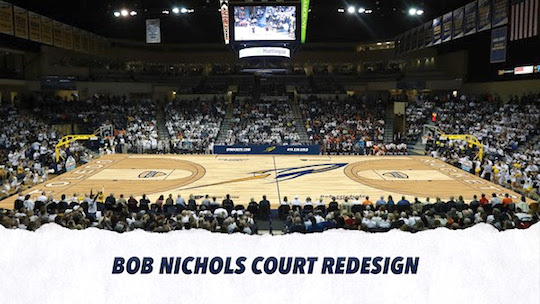 Originally known as Centennial Hall when it was built in 1976, the arena was renamed Savage Hall in 1988 and then became Savage Arena in 2008 as part of a $30 million renovation project. With that project, the facility was expanded to include the adjoining Sullivan Athletic Complex.
"I think the court looks phenomenal. It looks clean. It looks bright. It looks fresh," Head Men's Basketball Coach Tod Kowalczyk said. "I know our players are really excited about it, and I think the community will absolutely love it."
"I love the new, clean and sleek look of the floor," Head Women's Basketball Coach Tricia Cullop said. "I appreciate the fact our administration is always looking for ways to enhance and improve our already first-class facility."
"Everything Toledo does is top-notch, and the new court design is no different. I think it looks terrific," Head Women's Volleyball Coach Jason Oliver said. "Savage Arena is an amazing venue, and the new court design will be a great focal point for both spectators and recruits."


The women's volleyball program will open its 2019 season in Savage Arena when it holds the Blue & Gold Tournament Friday and Saturday, Aug. 30 and 31. The Rockets also will host the University of Indianapolis in an exhibition match Saturday, Aug. 24.
To purchase tickets for volleyball and men's and women's basketball, visit the Rocket Athletic Ticket Office at the Sullivan Athletic Complex in Savage Arena, contact the Rocket Athletic Ticket Office at 419.530.GOLD (4653), or go online to the Toledo ticket central website. 
UToledo employees can purchase tickets at half price; and UToledo students are admitted free with ID.