Toledo Earns MAC Men's FAR Academic Achievement Award
---
The University of Toledo men's athletic programs have been named the recipients of the 2021-22 Mid-American Conference Faculty Athletics Representative (FAR) Academic Achievement Award, the conference office announced Tuesday. It is the fourth time the Toledo men have won the award and the first time since 2015-16.
The award is given annually to both men's and women's programs to recognize the conference institution with the highest overall combination of grade point average (GPA) and Academic Progress Rate (APR) for the entire academic year. The GPAs are from the 2021-22 academic year, while the APR data is from 2020-21, the most recent school year in which data has been released by the NCAA.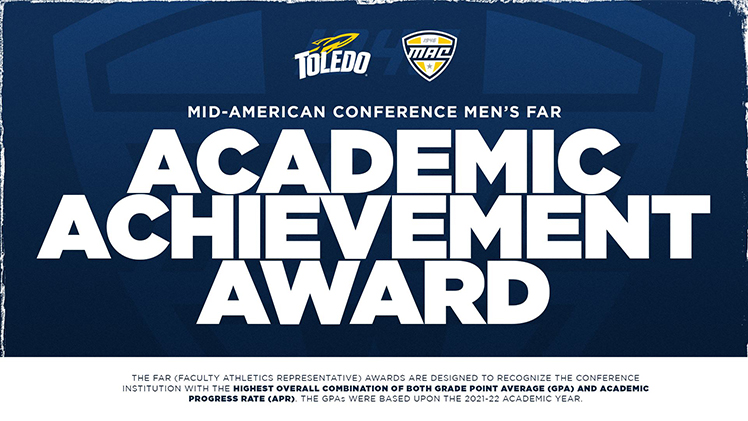 The Rocket men also were honored by the MAC in May with the Reese Trophy, given annually to the top athletic program in the league, making Toledo the first school in league history to win the top men's athletic and academic award in the same season. Toledo is also the only school ever to sweep the top two women's awards in a single school year, winning the Jacoby Trophy and the FAR Academic Achievement Award in 2017-18.
"Winning the FAR Academic Achievement Award and the Reese Trophy in the same year is an unprecedented achievement for our men's programs," said University of Toledo Vice President and Director of Athletics Bryan B. Blair. "Congratulations to all our men's student-athletes for their diligent efforts in the classroom, as well as to the coaches, parents, faculty and our Student-Athlete Academic Services (SAAS) staff who support their academic goals."
Four Toledo men's athletic programs (Men's Golf, Men's Cross Country, Men's Tennis, Baseball) posted a 3.20 GPA or higher in 2021-22, with Men's Golf leading the way with a 3.718 GPA. As a department, Toledo had GPAs of 3.364 in the 2022 spring semester, the highest ever using a normal grading scale, and 3.346 in the fall of 2021.
The Rockets had single-year perfect APR scores of 1,000 in Men's Basketball, Men's Cross Country, Men's Golf and Men's Tennis in 2020-21. In addition, Men's Tennis averaged a perfect score APR ranking of 1,000 over the previous four seasons. Football (978) and Men's Tennis both tied for the highest APR in the Mid-American Conference in 2020-21.