See you at Downtown Coaches Association luncheons
---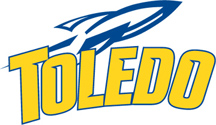 As The University of Toledo's athletic teams are about to begin their respective seasons, the Downtown Coaches Association is set to kick off activities for the 2011-12 school year as well.
The first meeting will be held Monday, Aug. 29, in Savage Arena. Head Football Coach Tim Beckman will be on hand to show a video and talk about the upcoming season-opener versus New Hampshire Thursday, Sept. 1.
The Downtown Coaches Association provides its members with exclusive involvement in Toledo athletics.
The primary group events are the weekly Monday luncheon meetings at Savage Arena, which offer the true Rocket fan an inside perspective on everything happening in the UT sports world. Each Monday, Rocket head coaches and student-athletes review the previous week's contests, talk about upcoming opponents, and answer your questions. It's your opportunity to get to know UT coaches and student-athletes.
The Monday luncheon meetings begin Aug. 29 and continue until the end of March. The second meeting will be held Tuesday, Sept. 6, due to the Labor Day holiday and will feature a report on the New Hampshire game and a video preview for Ohio State.
In addition to the weekly meetings, the Downtown Coaches Association also provides assistance to the UT Athletic Department in ways such as:
• Conducting the 50/50 raffle fundraising program at home football and basketball games;
• Organizing a giant reverse raffle fundraiser in the fall;
• Recognizing student-athletes at Monday lunch programs;
• Assisting with Graduate Assistant Scholarships and awards; and
• Providing annual contribution to the Athletic Department of all net proceeds from club fundraisers and operations.
The Downtown Coaches Association asks members for annual dues of $40 for an individual (or $50 for a couple). The membership year begins July 1 and runs through June 30.
To join or learn more about the Downtown Coaches Association, click here or call the Athletic Development Office at 419.530.2510.