Register for Wound and Hyperbaric Symposium
---
Members of the medical community are invited to participate in this year's Wound and Hyperbaric Symposium Friday, Sept. 16, from 8 a.m. to 5 p.m. at the Kalahari NIA Convention Center in Sandusky, Ohio.
Presented by the UT Division of Vascular/Endovascular and Wound Surgery, the symposium will emphasize the new advances in wound healing and management of biofilm. It will provide health-care professionals the opportunity to advance their knowledge on comprehensive wound assessment and documentation, the economic impact of lower extremity wounds, the role of physical therapist in wound care, and designing a wound team. There also will be several panel discussions with question-and-answer sessions.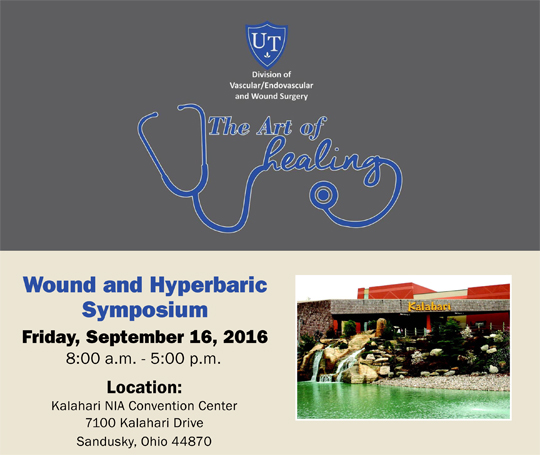 The cost to attend "The Art of Healing" for health-care providers is $90, which includes registration, breakfast/lunch and credit.
The deadline for registration is Friday, Sept. 2; there will be no guarantee of availability after that date. Online registration is encouraged at cme.utoledo.edu.
No syllabus will be provided at the event, but it will be available to view or print online one week prior to the symposium.
For more information, call the UT Center for Continuing Medical Education at 419.383.4237.