Mid-American Conference honors UT men's sports for highest GPA rank
---
UT male student-athletes have been named the recipients of the 2015-16 Mid-American Conference Faculty Athletics Representative Academic Achievement Award. 
The awards recognize the conference institution with the highest overall grade point average rank for both men's and women's student-athletes. This is the third time the UT men have won the award and the first time since 2010-11.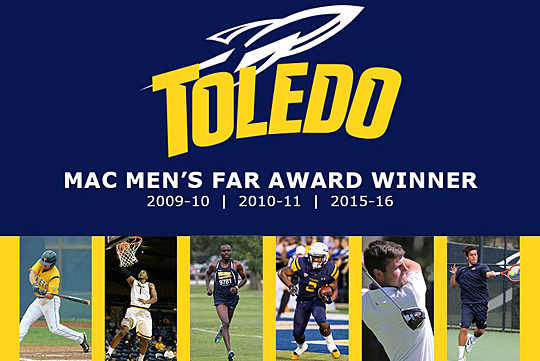 The MAC Institutional Achievement Award, which honors the school with the best overall GPA rank for all men's and women's sports, will be announced Aug. 30.
The conference faculty athletics representatives worked with the MAC athletic academic advisors to compute an award that best represents the academic achievement of student-athletes in a competitive setting. Using the same ranking method as the longtime Reese and Jacoby trophies (traditionally awarded to the best overall male and female athletic programs in the MAC), the Faculty Athletics Representative Academic Achievement Awards are given to those institutions' male and female programs with the highest overall GPA rank points within the conference. Only MAC-sponsored sports are used.
Toledo had the highest GPA rank average as the Rocket men carried the highest league GPA in two MAC-sponsored sports — baseball and men's basketball — while also posting the second-highest GPA in men's golf and the third-best mark in men's cross country and football during the 2015-16 academic season. 
"We want to extend our congratulations to all our men's sports for earning the Faculty Athletics Representative Academic Achievement Award," Vice President and Athletic Director Mike O'Brien said. "We take great pride in the academic success of our student-athletes. An achievement like this is a testimony to their hard work and dedication, as well as the tremendous support of coaches, administrators and faculty."