Rockets win MAC Institutional Academic Award with 3.266 GPA
---
The University of Toledo has been named the recipient of the 2017-18 Mid-American Conference Institutional Academic Achievement Award, the conference office announced today. For the past academic year, UT's student-athletes posted a school-record grade point average of 3.266.
It is the fifth time in the last seven years that the Rockets have won the award.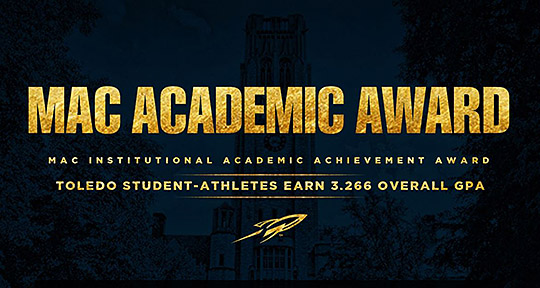 "Establishing the record for highest grade point average in school history and earning the MAC Institutional Academic Award is a wonderful achievement by our student-athletes," said UT Vice President and Athletic Director Mike O'Brien. "I'm especially proud of the tradition of academic excellence that we have established at The University of Toledo. Earning the MAC Institutional Academic Award for the fifth time in the last seven years is an indication of the consistent effort and determination of our student-athletes to excel in the classroom.
"This honor is also shared by the coaches, classroom instructors and the Student Athletic Academic Services staff who all work so hard in mentoring and nurturing our student-athletes."
The MAC Institutional Academic Achievement Award is presented annually to the conference institution that achieves the highest overall institutional GPA for student-athletes competing in institutionally sponsored sports for the academic year.
Last week, the Mid-American Conference recognized Toledo with the Faculty Athletics Representative Women's Academic Achievement Award. The awards recognize the conference institution with the highest overall grade point average rank for both men's and women's student-athletes.
MAC Institutional Academic Achievement Award
2017-18 – University of Toledo
2016-17 – Western Michigan University
2015-16 – University of Toledo
2014-15 – University of Toledo
2013-14 – Miami University
2012-13 – University of Toledo
2011-12 – University of Toledo
2010-11 – University of Akron
2009-10 – Bowling Green State University
2008-09 – Ball State University
2007-08 – Northern Illinois University
2006-07 – Central Michigan University
2005-06 – Central Michigan University
2004-05 – Central Michigan University
2003-04 – Central Michigan University
2002-03 – Central Michigan University
2001-02 – Central Michigan University
2000-01 – Bowling Green State University
1999-00 – Central Michigan University
1998-99 – Central Michigan University
1997-98 – Central Michigan University
1996-97 – Ball State University / Central Michigan University (tie)
1995-96 – Bowling Green State University
1994-95 – Bowling Green State University