Nightingale's Harvest serves Toledo cancer patients, families
---
The University of Toledo Medical Center is teaming up with Nightingale's Harvest, a local nonprofit organization that is holding its Life Drive through Monday, Sept. 30.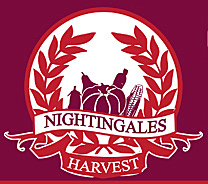 Nightingale's Harvest helps cancer patients and their families ease financial burdens with food distribution and other services while going through cancer treatment.
UT students, faculty and staff interested in donating can take food or everyday items to a collection bin at the Glendale Avenue entrance inside the Eleanor N. Dana Center.
According to the Nightingale's Harvest website, the organization provides perishable and nonperishable foods, personal hygiene items and home cleaning products for no charge to cancer patients and their families in the Toledo area.
In addition, Nightingale's Harvest offers nutrition education, as well as fresh produce from its organic garden it provides to families. Nightingale's Harvest was started by Lisa Kronbach-Eisenbach in 2011.
"Nightingale's Harvest would like to recognize Professor Laura Williams [senior lecturer in the UT Department of Management] as an innovative educator partnering with UT students in her classrooms to live and learn with great passion," said Kronbach-Eisenbach. "The partnership has brought UT students out of the classroom and actively into the business and marketing world of nonprofits."
Kronbach-Eisenbach added, "Williams has been an educator who encourages UT students to venture out into the community and become partners in social responsibility."
For more information or ways to help out Nightingale's Harvest, visit nightingales-harvest.org.