Director delivers 'Badass' book
---
It was a party atmosphere at Sherry Stanfa-Stanley's book launch Aug. 19 at Barnes & Noble at the Shops at Fallen Timbers in Maumee. The only thing missing? The author's drink of choice: Bloody Marys.
"I was told no alcohol, sorry," she told the standing-room-only crowd of about 150.
"Speaking to an empty room is awkward; this is terrifying," she said. "I know quite a bit about terrifying and awkward."
She was referring to the 52/52 Project, which she started in 2013. For one year, Stanfa-Stanley challenged herself with a new experience every week as she approached age 52.
"I wasn't in a rut; I was in a crater. And I just wanted to shake things up a bit," she said. "After traveling to Italy by myself in 2011, I realized if I could do that, there's probably a lot of things I can do if I went outside my comfort zone."
Her amazing, crazy and inspiring year included suiting up as Rocksy the mascot for a UT soccer game; babysitting quadruplets; going on a raid with the vice squad and SWAT team; spending 24 hours with nuns at a convent in Joliet, Ill.; performing as a mime outside a shopping center in Newport, Ky.; and crashing a wedding reception — and catching the bride's bouquet.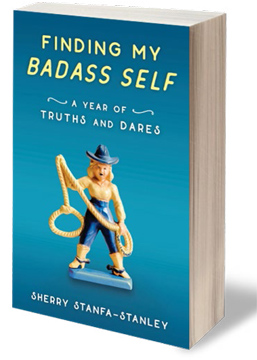 "I took those weird and wonderful experiences and wove them into a book," the director of communication and fund stewardship at the UT Foundation told the group.
"Finding My Badass Self: A Year of Truths and Dares" was published by She Writes Press and released Aug. 15. The 321-page book is $16.95 and available at most area bookstores and online through Amazon, Barnes & Noble, and all book retailers.
As folks flooded in and peeked around book shelves, Stanfa-Stanley read three excerpts from her debut.
She said "Catching a Flight to Nowhere" was one of her favorite adventures; she packed for an unknown destination, went to the Detroit Metro Airport, and booked the next flight out. It was winter, and, luckily, she jetted off to Fort Myers, Fla.
Conversely, "On the Ropes" was the least successful venture, she said. Stanfa-Stanley and two friends decided to skip the high-ropes course at the UT Student Recreation Center after seeing it was 35 feet above the gym floor — and watching an athletic college student slip from a beam and dangle by her safety harness.
"It's obvious I can't get away from the nude beach outing," Stanfa-Stanley said and introduced her mother, Gloria Stanfa, a retired UT secretary, who accompanied her on the trip.
"'Just be sure to mention we both kept our clothes on,' my mother said," Stanfa-Stanley read from the chapter titled "Baring it at the Beach." "'Um, maybe I didn't clarify that,' I replied. 'I'll be going au natural, too' 'Oh.' She pondered this. 'Well, then please don't sit next to me. I saw you naked as a baby, and I really don't care to anymore.'"
As laughter erupted during the readings, the author told the audience, "You're a sadistic lot."
Many seem to take pleasure in reading about Stanfa-Stanley's frightfully fun escapades. Her debut has received raves from book bloggers, including dearauthor.com, bloglovin.com and abookishabode.com, as well as positive reviews from trade journals, including Kirkus Reviews, Midwest Book Review and Foreword Reviews. In addition, Buzzfeed.com named the book one of five fall reads "guaranteed to make you laugh out loud."
Even a Los Angeles-based production company headed by a well-known actor/comedian inquired about film and TV rights.
"Usually nothing comes of these requests; it's happened to a few author friends," Stanfa-Stanley, ever the realist, said. "But a girl can dream."
Meanwhile, the 1983 UT alumna is scheduling book-signing events. She'll have a booth at the Roche de Boeuf Festival in Waterville Saturday, Sept. 23, from 9 a.m. to 5 p.m. And a reading and meet-and-greet will be held Saturday, Oct. 7, at the UT Barnes & Noble Bookstore at the Gateway; the time will be announced when the Homecoming football game kickoff is determined.
For the latest on appearances, check sherrystanfa-stanley.com, which links to facebook.com/The52at52Project, where the witty writer chronicled her derring-do — and daring don't — and has more than 5,000 readers.
"I certainly wouldn't say I'm fearless, but I'm desensitized. I worry less," she told the crowd.
"My first published book out in the world at age 55 tells you it's truly never too late to change your life. Maybe my stories will inspire you — or at least give you a couple laughs."