The smoke clears on tobacco-free campus
---
The University of Toledo has joined a growing number of college campuses nationwide in prohibiting tobacco use on its grounds.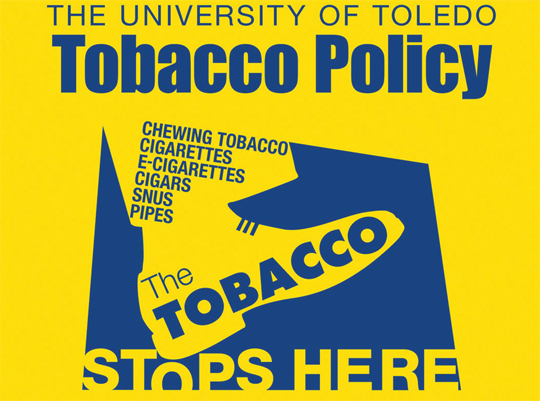 The change is evident on Main Campus as classes resume for the first time since UT tightened its policy to eliminate the use of:
• Cigarettes;
• Chewing tobacco;
• Electronic or e-cigarettes;
• Cigars;
• Snus; and
• Pipes.
Designated tobacco-use areas scattered throughout Main Campus have been converted to bicycle racks, and signs informing of the new tobacco policy have sprouted in the grass.
"It's no secret that tobacco products are harmful to both those who use them and to bystanders," said Vicki Riddick, senior wellness officer and director of Rocket Wellness. "When tobacco use was restricted in 2011, it was with the understanding that UT would eventually eliminate tobacco altogether. For the health and wellness of our students, our staff and those who visit our campuses daily, this is a step we had to take."
UT's Board of Trustees approved the new policy (which can be viewed at http://utole.do/tobaccofree) April 3. Much of the summer was spent planning support for those affected by the prospect of tobacco cessation.
Health Science Campus has been tobacco-free since 2006 in accordance with the Ohio Hospital Association's Tobacco-Free Hospitals initiative.
"This isn't just a physical change," Riddick noted. "The culture and habits of many on our campus will be affected. We know it's going to take several months for the new policy to become ingrained throughout our campuses. Our efforts during the first year will be focused on education and support."
She said e-cigarettes, considered a safer alternative to organic tobacco, were included in the policy because of recent findings that they deliver a toxic mix of chemicals, including carcinogens, to the lungs, and may hinder the body's defense against bacterial infections.
According to statistics released by the U.S. Department of Health and Human Services' Tobacco-Free College Campus Initiative, UT joins 937 universities across the country that are tobacco-free. Another 1,372 are smoke-free.
Riddick said several measures have been enacted to assist those who wish to stop using tobacco. Students may contact Will Pecsok, associate director of the Counseling Center on Main Campus, at 419.530.8436, or the medical centers on Main Campus (419.530.3451) and Health Science Campus (419.383.3777).
Faculty and staff are encouraged to call Rocket Wellness at 419.383.2348.
Information regarding cessation methods also is available in the pharmacies on Health Science and Main campuses.