Stand Your Ground laws topic of Sept. 9 panel discussion
September 4, 2013 |
News
By Rachel Phipps
---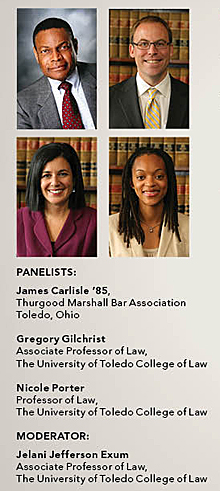 The Trayvon Martin/George Zimmerman case and verdict have raised the visibility of Stand Your Ground laws in this country.
A panel of experts will provide an overview of these laws and of Ohio's proposed version Monday, Sept. 9, at noon in the Law Center McQuade Auditorium.
Jelani Jefferson Exum, UT associate professor of law, will moderate the discussion with panelists James Carlisle, Toledo lawyer and a 1985 alumnus of the UT College of Law, Gregory Gilchrist, UT associate professor of law, and Nicole Porter, UT professor of law.
"This panel will get beyond the rhetoric and examine how these laws work and what they are really about," said Daniel J. Steinbock, dean of the UT College of Law. "It will allow the community to get the benefit of the kind of faculty expertise our students are exposed to every day."
House Bill 203 seeks to bring a version of the Stand Your Ground law to Ohio. Under current law, a person has no duty to retreat before using deadly force if that person is in his or her own home or automobile. The proposed legislation tracks Florida's law and expands the right to use deadly force without a duty to retreat to any place a person has a lawful right to be.
The panel will survey Stand Your Ground laws in the United States and analyze them from legal, historical and feminist perspectives.
For more information on the free, public event, click here.