UT to hold seminar on prostate cancer and urological health
---
Surgery and radiation therapy for prostate cancer can cause undesirable side effects, including erectile dysfunction and incontinence, but a cancer diagnosis does not mean a man's quality of life needs to suffer.
A seminar aimed at educating men about available options for prostate cancer and improving their overall urological health will be held Thursday, Sept. 15, at 6 p.m. at UT Health's Eleanor N. Dana Cancer Center. Registration will begin at 5:30 p.m.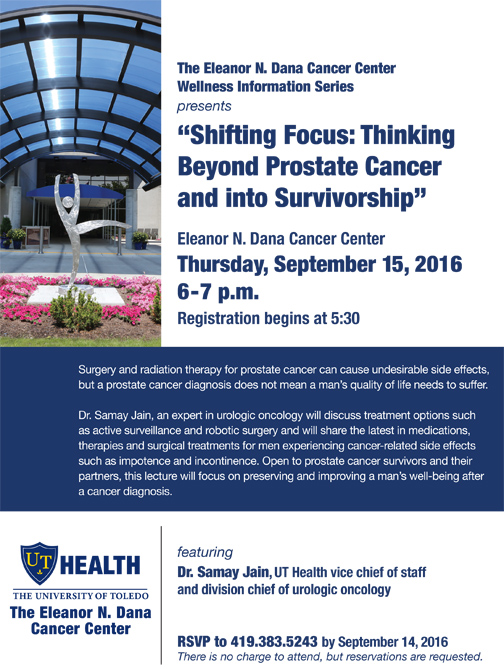 "It is important for men who are diagnosed with prostate cancer to ask about the treatment options that are available to them," said Dr. Samay Jain, UT Health vice chief of staff and division chief of urologic oncology. "Men with low-risk prostate cancer may be good candidates for active surveillance, which means we monitor him closely, but delay surgery or radiation treatment until it is needed."
If active treatment cannot be avoided, Jain said there are options to help preserve a man's quality of life.
"Our surgeons are trained in robotic surgery and other minimally invasive therapies for the cure of prostate cancer to help you get back to living your life with less pain and scarring and reduced risk of side effects," he said.
Jain encourages men experiencing incontinence or impotence to talk to their doctor about the available treatment options, including medications, therapies and surgical options.
"Shifting Focus: Thinking Beyond Prostate Cancer and Into Survivorship" is part of the Eleanor N. Dana Cancer Center's Wellness Information Series. Jain is certified through the American Board of Urology and focuses on urologic oncology, minimally invasive robotic procedures and prostate MRI.
Space is limited, and reservations are required. Email eleanorndanacancer@utoledo.edu or call 419.383.5243.