UT Military Service Center, Harley-Davidson hosting ride to house homeless veterans Sept. 10
---
The University of Toledo Military Service Center has partnered with Harley-Davidson to host the first Veterans Matter Ride to help house homeless veterans as part of UT's Hero Appreciation Day and football game Saturday, Sept. 10.
Organizers are hosting a news conference to invite the public Wednesday, Sept. 7, 3 p.m. the UT Veterans Memorial Plaza.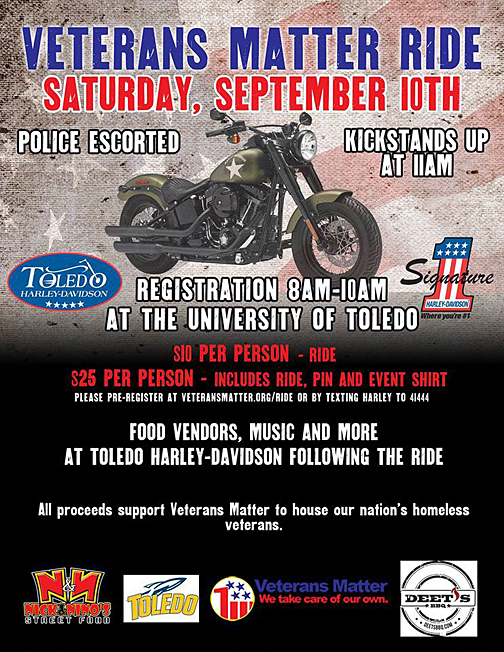 "No one who has served our nation should have to live on the streets," said Navy Reserve Lt. Haraz N. Ghanbari, UT director of military and veteran affairs. "Our commitment to veterans extends beyond the sidewalks and boundaries of our campus, and directly into the communities in which we serve."
Registration for the motorcycle ride is from 8 to 10 a.m. Saturday, Sept. 10, in parking lot 5 at Savage Arena. The ride begins at 11 a.m. with a police escort through campus and ends at Toledo Harley-Davidson, 7960 W. Central Ave. Riders will be greeted at Toledo Harley-Davidson by music and food from local vendors, including Nick & Nino's and Deet's BBQ.
"These men and women have been through a lot in their lives, and this is our chance to give back," said Tim Sherman, owner of Toledo Harley-Davidson and Signature Harley-Davidson in Perrysburg. "The land of the free can help to provide homes for the brave. These veterans deserve it."
Before the Rocket football game begins, two veterans will transport the American flag and UT mascots into Glass Bowl Stadium at 7 p.m. just prior to a flyover by the 180th Fighter Wing.
Those interested in riding can pre-register by texting "Harley" to 41444 or online at VeteransMatter.org/ride. The cost is $10 per rider or $25 for the premium registration, which includes a pin and event shirt. All proceeds will help house more homeless veterans in the community, state and nation.
Veterans Matter, a program run by a nonprofit organization in Toledo called 1Matters, was started to house 35 local veterans and provides deposits directly to landlords to eliminate the last barrier preventing homeless veterans from crossing the threshold into VA-supported, long-term, voucher-assisted housing. Founder Ken Leslie grew the program to become a national campaign that has housed more than 1,100 veterans in more than 160 cities.