UT Stranahan Arboretum invites public to March of the Monarchs Sept. 10
---
The University of Toledo Stranahan Arboretum is helping save monarch butterflies with the creation of a rest stop and nursery for the black, orange and white-patterned pollinators.
The arboretum's new monarch waystation is a flower garden made up of milkweed and nectar plants to help nourish and protect the butterflies as they reproduce and migrate.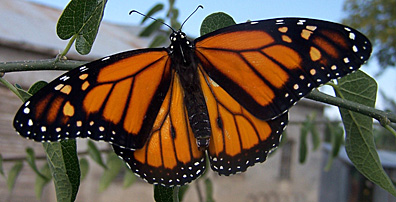 The public is invited to celebrate at the March of the Monarchs Saturday, Sept. 10, at 11 a.m. at the UT Stranahan Arboretum, located at 4131 Tantara Drive.
A butterfly parade showcasing the different stages from caterpillar to butterfly will begin at 1 p.m. Children are encouraged to wear butterfly costumes.
The event shines a spotlight on how families can help bolster the species' dwindling population.
"Every fall, the monarch migration from the U.S. and Canada to Mexico and California is a great natural wonder, but it's threatened by habitat loss," said Pam Struffolino, event coordinator at the arboretum and research operations manager in the Department of Environmental Sciences. "It's up to all of us to help preserve this beautiful species through gardening."