'Trayvon: Old Scars and New Activism' topic of Sept. 10 UT discussion
---
Faculty and students will talk about the Trayvon Martin tragedy in an effort to promote African-American collegiate success. "Trayvon: Old Scars and New Activism" will take place Tuesday, Sept. 10, at 6:45 p.m. in the Law Center McQuade Auditorium.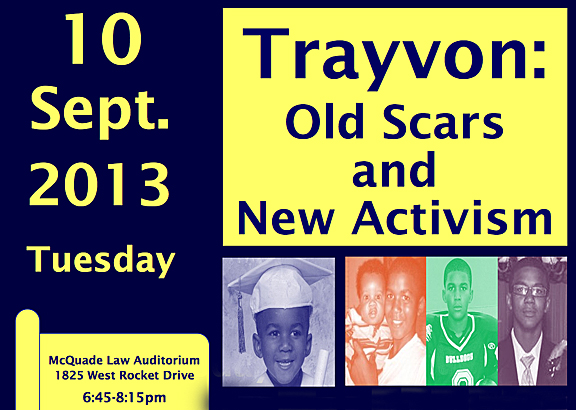 "The tragedy of Trayvon's young life that was cut short is now part of the mosaic of centuries of African-American tragedies of lives lost and lives undeveloped," said Dr. Rubin Patterson, UT professor and chair of sociology and anthropology. "We put together this program to not only lessen the prospect of more African-American tragedies in Ohio to be added to that mosaic of tragedies, but to also heighten the prospect of African-American student success."
For every 100 African-American males who enroll at UT, only about 10 graduate five years later, according to Patterson, who also is director of the Africana Studies Program and the Institute for the Study and Economic Engagement of Southern Africa.
"That tragic statistic is by no means limited to UT as low graduation rates among African-American males are experienced in most institutions of higher learning around the country," he said.
"The majority of these young men leave UT and other universities without having completed a discovery of who they are as a person; without a complete understanding of how social systems operate; without transferable and marketable skills; and without a degree. But they do leave with more debt and with fewer options, which can lead to more tragedy."
Patterson and others will discuss how to change those statistics and promote African-American student success.
He will be joined by Benjamin Davis, UT associate professor of law; Dr. Anthony Quinn, UT associate professor of biological sciences and UT adjunct professor of medical microbiology and immunology; Robert Delk, a senior majoring in mathematics and president of the Black Student Union; Christopher Scott, an education major who works in Undergraduate Admission; and Johnny Reese, a student who serves on the board of the Bridge of Hope Life Enrichment Agency Inc., a local nonprofit organization.
The free, public event is sponsored by College of Law, the Africana Studies Program, the Department of Sociology and Anthropology, Brothers on the Rise, the Black Student Union, and the Association of Black Faculty and Staff at The University of Toledo.
For more information, contact Patterson at 419.530.7253 or rubin.patterson@utoledo.edu.