Diamante Awards to honor UT students
---
Seven University of Toledo students will be honored at the 20th Annual Diamante Awards Friday, Sept. 11, at 6 p.m. in the Franciscan Center at Lourdes College in Sylvania.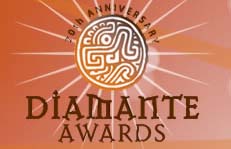 Carlos Ruiz, a senior majoring in finance, will be awarded the Latino Youth Leadership Award. Ruiz serves as a youth specialist with Adelante, helping with the organization's Quinceanera Fashion and Talent Show. He also participated in the Hugh O'Brian Youth Leadership Conference at Ohio Northern University and the Latino Youth Summit and the overnight experience for children of migrant workers at The University of Toledo.
Additionally, six UT students will receive scholarships for their community and volunteer work. Listed by award, they are:
Diamante Image Latino:
• Antonio Aguilar, senior majoring in criminal justice;
• Manuel Mendizabal, a junior majoring in psychology;
• Christina Rodriguez, a senior majoring in anthropology; and
• Delfina Zapata, a senior majoring in education.
National City Diamante:
• Natalie Guzman, a sophomore majoring in social work.
Owens Corning Diamante:
• Ilario Estrada, a junior majoring in pharmacy.
The Diamante Awards were established in 1989 and are now a collaborative effort between Bowling Green State University, Lourdes College, Owens Community College and UT to ensure more Latinos are recognized for their community outreach efforts and to provide scholarships to enable students to attend an institution of higher education.