Eberly Center Collaborating on Hygiene Product Collection Drive Through Sept. 29
---
For the second year, the Eberly Center is collaborating with the Neighborhood Health Association and Toledo Public Schools to collect hygiene products for students at Jones Leadership Academy of Business.
Jones Leadership Academy of Business, a TPS school, prepares students in grades 7 through 12 to become future business and community leaders. Its business-themed college preparatory curriculum includes marketing, finance and supply chain management. Those students also participate in the Young Executive Scholars (Y.E.S.) program through the John B. and Lillian E. Neff College of Business and Innovation at UToledo.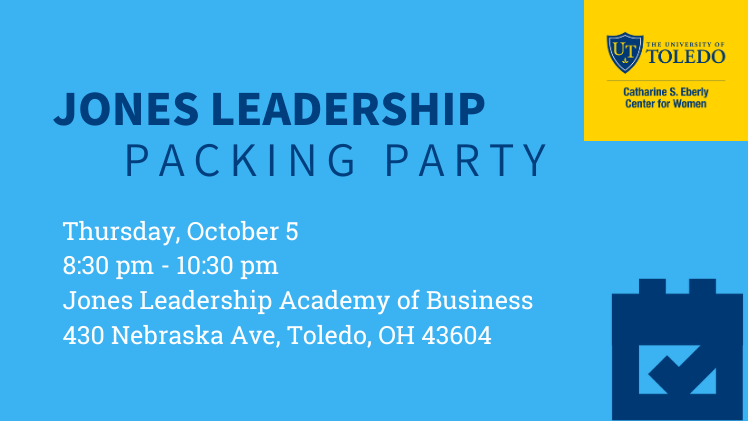 To contribute to the drive, bring new or unopened body soap, deodorant, hair products, menstrual products, toothbrushes and toothpaste to one of the drop-off locations through Friday, Sept. 29.
Donation locations include:
•  Jones Leadership Academy of Business, 430 Nebraska Ave.;
•  Neighborhood Health Association, 1415 Jefferson Ave.;
•  Catharine S. Eberly Center for Women at UToledo, Tucker Hall Room 0168;
•  UToledo Office of Multicultural Student Success, Thompson Student Union Room 2500;
•  Savage Business Complex Key Bank Lobby on UToledo Main Campus;
•  Mulford Library Main Entrance Lobby on UToledo Health Science Campus; and
•  UToledo Medical Center Pavilion Main Entrance Lobby on Health Science Campus.
UToledo students, staff and faculty members also are invited to help create self-care kits with the donated items from 8:30 a.m. to 10:30 a.m. Thursday, Oct. 5, at the Jones Leadership Academy of Business.
For more information about the hygiene product drive, contact Monica Morales from Neighborhood Health Association at 419.720.7883 x1038 or mmorales@nhainc.org.