Buy a banned book: Support the right to read
---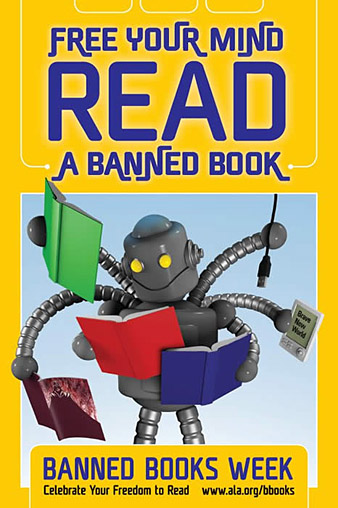 Not even Captain Underpants is safe. The hero from a series of books by Dave Pilkey is on the list of the most challenged and banned books, according to the American Library Association.
He's in good company. Other targets include J.K. Rowling's Harry Potter series, Alice Sebold's The Lovely Bones, Harper Lee's To Kill a Mockingbird, John Steinbeck's The Grapes of Wrath and J.D. Salinger's The Catcher in the Rye.
To celebrate the right to read and think freely, UT will join the American Library Association's Banned Books Week by holding its annual vigil Thursday, Sept. 29, from 9 a.m. to 5 p.m. on the second floor of Sullivan Hall on Main Campus.
"The fight for the First Amendment is never won," said Dr. Paulette D. Kilmer, UT professor of communication. "Sometimes people ban books without having read them."
Faculty, staff and students can support the right to read by purchasing banned books, which will be given out as door prizes throughout the UT Banned Books Week Vigil.
"Our slogan this year, 'Free Your Mind, Read a Banned Book,' reminds us that folks often blackball books because the authors touch on sensitive subjects or social taboos and therein offer us insights into what we might otherwise overlook or avoid," Kilmer said.
"Controlling what we read limits our thinking," she said. "Tyrants always restrict access to media, including books, to banish ideas they consider dangerous. Democracy cannot thrive without the free flow of information."
A list of the banned books that may be purchased for the event is available in the UT Bookstore in the Student Union and in the Department of Communication Office, University Hall Room 4600. Click here to see a flyer containing the titles.
Patrons' names will be inscribed in plates in the books, acknowledging their gifts and listing them as a "Champion of Freedom of Expression."
Those interested in purchasing a book should contact Colleen Strayer, general manager, at the UT Bookstore, at 419.530.2516 or at bkstoledo@bncollege.com. Cash donations also will be accepted and used to buy books.
Tuesday, Sept. 20, is the deadline to purchase texts.