Opening receptions for two art exhibits Sept. 15
---
The University of Toledo Department of Art will host opening receptions for two art exhibits Thursday, Sept. 15, from 6 to 8 p.m. on UT's Toledo Museum of Art Campus.
"Midwest Mindset" is on display through Sunday, Oct. 30, in Center for the Visual Arts Gallery.
Featuring artists working and living in Cincinnati, Columbus, Detroit, Indianapolis, Chicago and Findlay, Ohio, "Midwest Mindset" examines contemporary art practice in the once-thriving heartland.
The decline of the Midwest is evident in the crumbling remains of the Industrial Age. Once well-oiled and strong, these rusting factories stand as reminders of prosperity in America, of the hard work of generations past, and of opportunity for reinvention. In the 19th century, the Midwest was a land of opportunity. New factories fortified the region with jobs. Craftsmen and innovators pushed the Industrial Revolution forward, and the American dream manufactured itself. Many of the factory jobs that created these cities have disappeared, conglomerated, moved overseas. But a sense of pride, hard work and craftsmanship still pervades. People carry the "Midwest Mindset."
Artists in this exhibition share a nostalgia for craft, manufacturing, transportation, and an American dream that didn't necessarily work out.
The exhibition was curated by Austin Radcliffe, a Cincinnati-based writer and photographer known for his blog and book titled Things Organized Neatly. 
Artists included in the exhibition are art collective TODT, Cudelice Brazelton, Erin K. Drew, Dan Gunn, Clara DeGalan and Nathaniel Foley.
The free, public exhibition can be seen Monday through Saturday from 9 a.m. to 9 p.m. and Sunday from 10 a.m. to 9 p.m.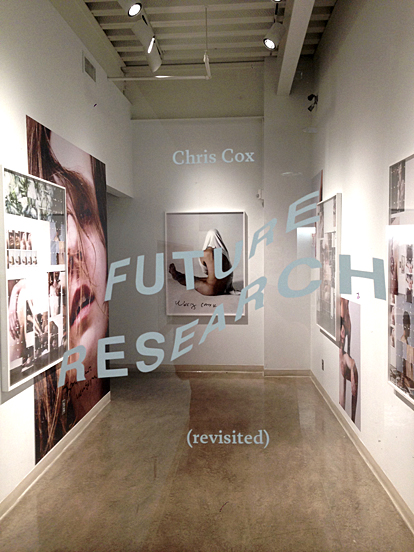 "Future Research (revisited)" by Chris Cox is on display through Friday, Oct. 14, in the Center for the Visual Arts Clement Gallery on the University's Toledo Museum of Art Campus.
Cox will discuss his work Thursday, Sept. 15, at 1:30 p.m. in the Center for the Visual Arts Haigh Auditorium. He also will attend the opening reception from 6 to 8 p.m. later that day.
His latest is an organically created body of work involving male subjects shot in a stark white studio. And that's where the simplest explanation ends.
A quote from artist Kara Gut, who helped write some of the text when the images were collected into book form, suggests that any explanation invariably raises more questions (and insights) than answers.
"A common question posed by our mentor and fearless leader, Liz Cohen [artist-in-residence at the Cranbrook Academy of Art in Bloomfield Hills, Mich.], in her attempt to understand the dynamics of this group of models, 'Are they friends?' 'Are they lovers?' 'What is the matter of each relationship?' She sought definition in order to generate meaning from content," Gut wrote. "However, I counter her argument. Allowing actions, sexual or otherwise, to creep into abstraction, sans meaning, has generated enough content to satisfy my wildest dreams."
Cox and Gut received master of fine art degrees from the Cranbrook Academy of Art this year.
The free, public exhibition can be seen daily from 9 a.m. to 8 p.m.
For more information on the exhibitions, contact Brian Carpenter, UT gallery director and lecturer in the Art Department, at brian.carpenter@utoledo.edu.