Environmental reform of Lake Erie topic of Sept. 20 talk
---
Dr. Timothy W. Davis will discuss environmental reform concerning Lake Erie Thursday, Sept. 20, at 7 p.m. at the UT Lake Erie Center.
His presentation is titled "Learning From the Past: Improving and Maintaining Water Quality in Western Lake Erie Requires Science, Policy and Endurance."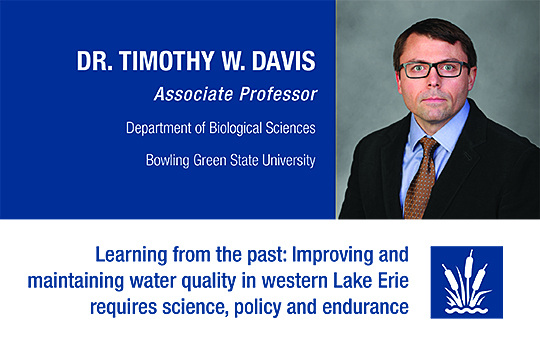 Davis is an associate professor in the Department of Biological Sciences at Bowling Green State University.
"We focus on Lake Erie because it's in our backyard," Davis said, "but harmful algal blooms are a nationwide issue affecting communities from the coast to the Great Lakes, and have broad impacts on our nation's economy and environment. It's a difficult problem, but not an impossible one."
UT students are invited to the free, public event, and a shuttle is being provided to take them from Main Campus to the Lake Erie Center, located at 6200 Bayshore Road in Oregon, Ohio.
The shuttle will depart at 6:15 p.m. from the south side of Bowman-Oddy Laboratories on Towerview Boulevard. Passengers will be returned to Main Campus following the lecture.
Those who wish to ride the shuttle must reserve their spots by Tuesday, Sept. 18, by emailing lakeeriecenter@utoledo.edu or calling 419.530.8360.