Vendors, artists: Time to sign up for UT Holiday Bazaar
---
The Professional Staff Council is accepting applications to participate in The University of Toledo Holiday Bazaar.
The holiday sale will take place Friday, Nov. 9, from 10 a.m. to 5 p.m. in the Thompson Student Union Ingman Room.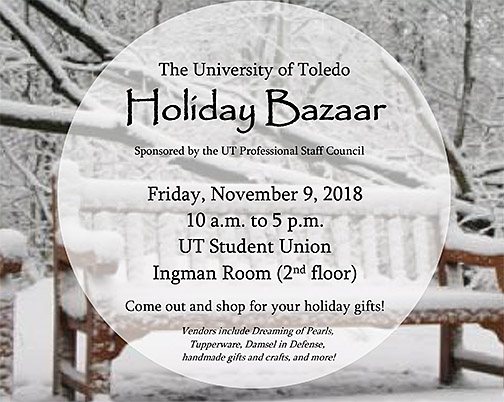 The fee is $25 per eight-foot table for the one-day event. Proceeds from the vendor fees will benefit an endowed scholarship and progress fund for the Professional Staff Association.
Friday, Sept. 28, is the deadline to submit applications. The application and payment process can all be found here. There will be no refunds of payments.
UT employees that choose to be vendors must receive approval from their supervisors to be away from work and must submit vacation time for the hours spent at the Holiday Bazaar that are during their normal workday.
For any questions or more information, contact Aleiah Jones, program coordinator with the Office of Multicultural Student Success and treasurer for the Professional Staff Council, at aleiah.jones@utoledo.edu.