UT to welcome new citizens, learn about wrongful conviction on Constitution Day
---
For those of us born in America, it's hard to imagine the feeling of becoming a citizen, but The University of Toledo community can witness it firsthand at a naturalization ceremony Tuesday, Sept. 17.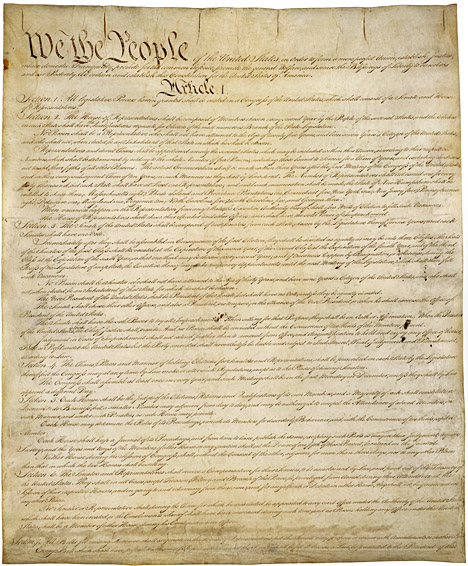 "The naturalization ceremony we hosted for Constitution Day last year was extremely moving," said Dr. Renee Heberle, UT professor of political science and public administration, and co-director of the Program in Law and Social Thought.
The ceremony will be held Tuesday, Sept. 17, from 11:30 a.m. to 1 p.m. in the Law Center McQuade Law Auditorium on Main Campus and is co-sponsored by the Office of Government Relations and the Program in Law and Social Thought. At the ceremony, more than 20 people will be sworn in as U.S. citizens by federal court officials.
Also from noon to 2 p.m. in Student Union Room 2584, there will be a live simulcast from Washington, D.C., with the Constitution Project, which will include a presentation of its annual Constitution Commentary Award. This year the award will go to filmmaker Ken Burns and his colleagues for their documentary, "The Central Park Five."
The documentary tells the story of five teenagers in Harlem who were wrongly convicted of raping a woman after making false confessions — the leading cause of wrongful convictions. The phenomenon of wrongful convictions and Fourth Amendment rights will be addressed in a panel discussion moderated by Carrie Johnson of National Public Radio.
The panel will include Burns; Shawn Armbrust, executive director of the Mid-Atlantic Innocence Project; Saul Kassin, Distinguished Professor of Psychology at John Jay College of Criminal Justice; and James Trainum, a retired detective from the Metropolitan Police Department of the District of Columbia.
"We celebrate the Fourth of July and the Declaration of Independence, but the Constitution actually governs our rights and how we do government," Heberle said. "We need not only to celebrate the longevity of our Constitution, but also to educate ourselves about how it works in our lives on a daily basis."
From 9 a.m. to 4 p.m., the Program in Law and Social Thought will have a table with baked goods at the top of the Student Union steps. The sweets are free of charge, but donations will be accepted for future programming such as the events on Constitution Day. Students also will raffle off prizes, including Olive Garden dinners and a free night's stay on Kelleys Island.
Established in 2004, Constitution Day recognizes the formation and signing of the U.S. Constitution on Sept. 17, 1787. All educational institutions that receive federal funds hold events to recognize the day.