UTPD adds mobile phone app, body cameras to force
---
It's the start of another school year and The University of Toledo Police Department is ready to keep campus safe with the help of new equipment and officers.
A new smartphone safety application and body cameras for each patrolling officer have joined the force for the 2015-16 academic year.

The Rave Guardian smartphone app, which is free for all UT students, faculty and staff, has several features, including a safety timer and panic button to immediately call campus or local police in an emergency; it's like putting the code blue emergency phones on campus right in your pocket. It also includes a unique safety-monitoring feature that allows trusted friends or "guardians" to receive texts or email alerts along with the GPS location of the phone in an emergency. Crime tips also can be sent directly to campus police through the application.
Student-created safety profiles in the application can provide details such as medical information directly to campus safety officials so that they can better respond to your emergency situation.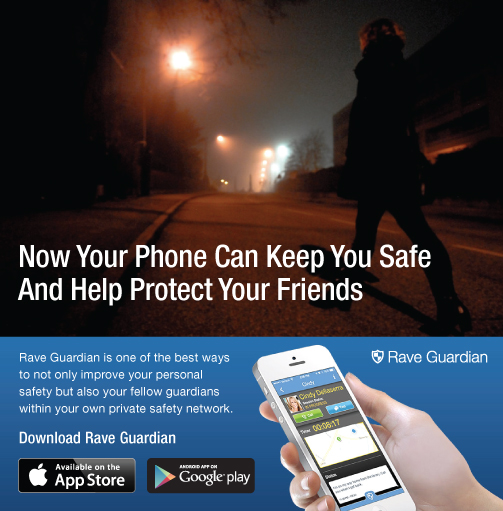 "Nearly everyone on campus carries a smartphone, so UTPD is embracing this technology to communicate directly with our community and provide a convenient way to easily reach us," UT Police Chief Jeff Newton said. "Rave Guardian is going to be much easier and simpler to use because it's all wrapped up into one smartphone application."
Through the one Rave Guardian app, UTPD has consolidated services that used to be separate — the LifeLine Response EDU smartphone app and the Text-a-Tip service that required a smart code. Rave also is the vendor the University now will use to send UT alert text messages in the case of an emergency.
Download Rave Guardian from your app store and sign up for UT Alert at utalert.utoledo.edu.
The University of Toledo Police Department also recently has deployed body cameras. All UT officers in the field responding to calls will be equipped with body cameras.
"I think it's a win-win," Newton said. "The community and the officer both benefit when you have a camera that doesn't have a slant, it doesn't have a perspective. It just records what happens."
UTPD also updated its alternative vehicle fleet by purchasing two new ATVs and a golf cart to patrol hard-to-reach areas of campus, specifically during special events.
This also is the first full academic year that Quinty, an explosive-detection K9, is part of the department. The male Belgian Malinois with explosive-detection training joined the force last year as a resource to respond to any bomb threats in the northwest Ohio region as well as to proactively sweep areas before UT and nearby events, including the recent Republican presidential primary debate held at Quicken Loans Arena in Cleveland.
Along with Quinty, UTPD currently has 36 officers, including Austin Gunn who started July 6 and Courtney Stranscak who started Aug. 31.
To contact UTPD in case of an emergency on campus, call 419.530.2600. For non-emergency situations, call 419.530.2601. For off-campus emergencies, dial 911. Follow campus safety news on social media by following UTPD on Facebook and Twitter.