Address to focus on societal changes, role of higher education
---
Much has changed in the United States' economy since Dr. Lloyd Jacobs took the stage for his first address to the community as president of The University of Toledo.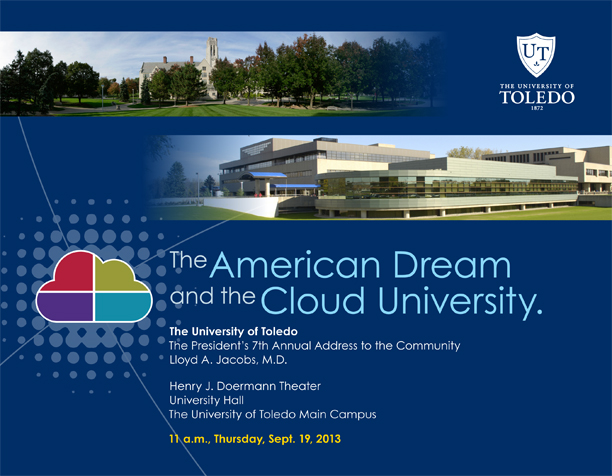 Now UT's 16th president will in his seventh annual address focus on the role of higher education in this time of an evaporating middle class.
In "The American Dream and the Cloud University," Jacobs will set a vision for the future of The University of Toledo, shaped by the evolving needs of students, patients and the community.
"One of the critical pieces of the long-term strategy is partnerships," Jacobs said. "How these partnerships will ultimately help us live our mission, but also better focus on our most important deliverables: a quality education and a quality clinical experience."
The address will take place Thursday, Sept. 19, at 11 a.m. in the newly renovated Henry J. Doermann Theater.
Parking will be available in the grassy area across from University Hall, with access from Goddard Road. Golf carts will be available for those who need assistance walking from the area.
Individuals on other campuses can use a shuttle to Main Campus at the following times and locations:
• Health Science Campus: Departure from Mulford Library circle at 10:10 and 10:30 a.m.
• Scott Park Campus: Departure from Lot 22 at 10:30 a.m.
All shuttles will leave at noon from Bancroft Street in front of University Hall after the speech is concluded.