Fun-filled Parent and Family Weekend to commence Sept. 18
---
After a month of classes, even the newest members of the Rocket family should be able to give their parents a tour of campus.
Parents of UT students are invited to join the fun at this year's annual Parent and Family Weekend, "Rocket Proud: Proud of Where We Came From, Who We Are and Where We're Headed," Friday, Sept. 18, through Sunday, Sept. 20.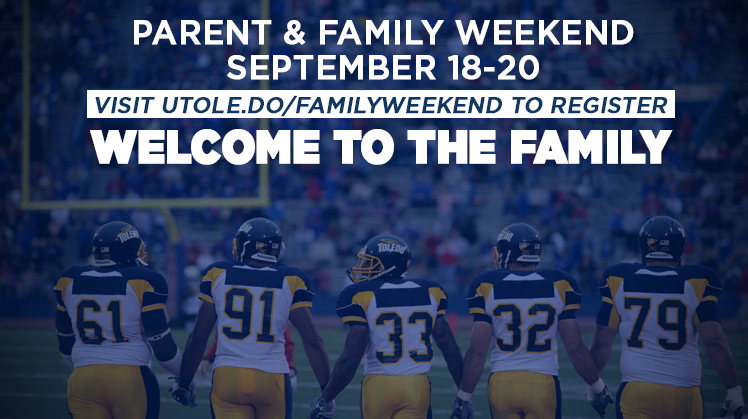 A variety of events and activities will be available to students and their families throughout the weekend:

Friday, Sept. 18
• Volleyball game vs. Radford University in Savage Arena at 7 p.m.
Saturday, Sept. 19
• Planetarium shows in the Ritter Planetarium and Observatory at 1 and 3 p.m.
• Glass-blowing demonstrations in the Bowman-Oddy Laboratories from 1 to 4 p.m.
• Volleyball game vs. Cleveland State University in Savage Arena at 1 p.m.
• Tailgate meal in the Flatlands at 5:45 p.m.
• Rocket football game vs. Iowa State University in the Glass Bowl at 8 p.m.
Sunday, Sept. 20
• Barbecue hosted by the Alumni Association and UT Greek Life at the William and Carol Koester Alumni Pavilion at noon.
For more information, contact the Office of Student Involvement and Leadership at 419.530.4944 or studentinvolvement@utoledo.edu.