UT, Belle Tire team up to honor military personnel during football season
---
The University of Toledo and Belle Tire will recognize outstanding military personnel and their families prior to each Rocket home football game this season.
The active-duty military member or veteran will accompany the team captains on the field for the pre-game coin toss.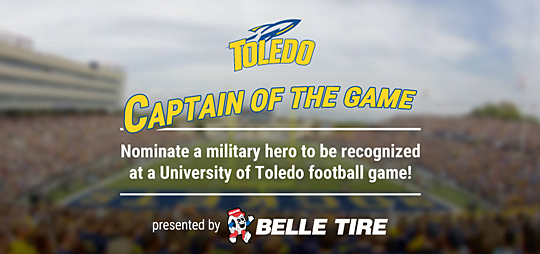 UT and Belle Tire will select seven nominees, one for each home game. Family and friends are encouraged to nominate their military heroes for recognition with the "Captain of the Game" link on the Belle Tire Toledo Facebook page at facebook.com/BelleTireToledo throughout the season.


In addition to taking the field with the Toledo football captains, the military member of the game will receive recognition on the Glass Bowl video board and over the public address system. The honorary captain also will receive tickets to the game for his or her family, sideline passes, and a special prize package from Belle Tire.
 

For more information on how to submit a nomination, visit the Belle Tire Toledo Facebook page or call Rocket Sports Properties at 419.530.2912.
Click to access the login or register cheese