Hussain lecture to discuss pioneer Scottish surgeon and patron of body snatchers
---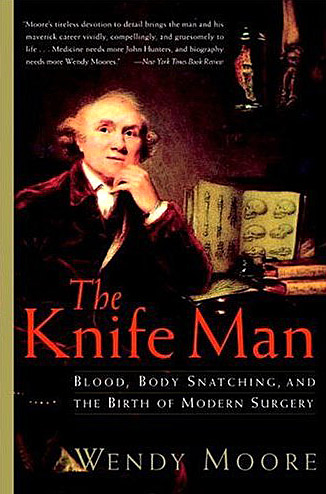 In 18th-century Europe, body snatching was a crime punishable by death, but that didn't stop Dr. John Hunter from collecting bodies for teaching anatomy and conducting medical research.
Although his methods were illegal, Hunter's work paved the way for experimental medicine and the adoption of surgery as a respectable craft.
Author Wendy Moore wrote a biography on his life and work titled The Knife Man, which she will travel from London to the Glass City to discuss at the fifth annual S. Amjad Hussain Visiting Lecture in the History of Medicine and Surgery at The University of Toledo.
The free, public lecture, "The Knife Man: Life and Times of John Hunter (1728-1793)," will be Thursday, Sept. 26, at 5 p.m. in Health Education Room 100 on UT's Health Science Campus.
"In John Hunter, we have a cumulative legacy of a great man whose work paved the way for future advances and, 250 years later, we are still benefiting from his concepts," said Dr. S. Amjad Hussain, UT professor emeritus of thoracic and cardiovascular surgery and member of the University Board of Trustees. "His impact is limited not only to surgery or medicine but also in natural sciences. And to top it off, he was the patron saint of the body snatchers."
Moore started her writing career as a journalist specializing in crime and later health care — a background that fueled her interests in Hunter.
"John Hunter was a remarkable man: an inspired surgeon, a brilliant anatomist and an unparalleled naturalist," Moore said. "He managed to fit into one life of 65 years more than most people could manage in several lifetimes."
Moore was selected for this year's lecture by a committee that included Hussain, Dr. Gerald B. Zelenock, professor and chair of surgery, and Dr. Steven H. Selman, professor and chair of urology, who teaches the History of Medicine elective.
Hussain hopes to see the History of Medicine course become part of the curriculum because of the importance of medicine's past.
"It does not matter what operation we do — it has a beginning somewhere in the past," Hussain said. "Somebody thought of it and performed it and others followed and refined it. When we perform a surgical procedure or treat a patient with medications, we are always connected to the pioneers who had led the way before us."
RSVPs to attend the S. Amjad Hussain Visiting Lecture in the History of Medicine and Surgery are requested by Monday, Sept. 23; email k.edwards@utoledo.edu or call 419.383.5416.