UTMC to celebrate top-tier status, start programs to enhance customer service
---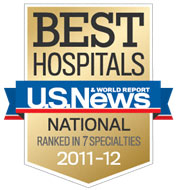 On Thursday, Sept. 22, The University of Toledo Medical Center will celebrate its status as the best hospital in the region at the same time it launches iCARE University, a comprehensive series of training programs designed to ensure patients' customer experience is just as stellar as the health care UTMC provides.
UTMC will open iCARE University at 1 p.m. in the basement of Mulford Library as an integral piece of its broader effort to further elevate the experiences patients and their families have during their stay at the hospital.
"UTMC physicians and clinical employees are among the best in their fields, but we want to make sure they also are leaders in areas such as communication skills, empathy, ability to handle stress, and other behaviors that are essential to being an outstanding care giver," said Ioan Duca, service excellence officer for UT.
According to Duca, iCARE University — which stands for the tenets of great customer service: communication, access, respect and excellence — will have a medical exam room where clinicians will be tested not on their medical knowledge, but on their active listening, the effectiveness of their efforts to reduce anxiety, elimination of medical jargon and clarity of communication, and their ability to prioritize their workload to ensure clinicians' stress doesn't affect care and customer service.
An office set up for employees handling registration, financial and insurance matters also will be established.
Rosanne Plasky, manager of iCARE University, said employees will be evaluated by their supervisors to determine what customer service areas need to be strengthened. Plasky, who will lead a team of two specialists as teachers in the new institute, said high performers will serve as peer mentors and augment iCARE University refresher courses for those who need them.
UTMC also will use this opportunity to celebrate its U.S. News and World Report-recognized status as the best hospital in the region at two Barbecue Picnic Celebrations for Champions. First and second shifts will celebrate outside Mulford Library Thursday, Sept. 22; first shift from 11 a.m. to 2 p.m. and second shift from 4 to 6:30 p.m. Third shift will receive a Breakfast for Champions from 7 to 9:30 a.m. in the UTMC Cafeteria Friday, Sept. 23.
Dr. Scott Scarborough, senior vice president and executive director of UTMC, said the dual activities are examples of the hospital's commitment to patients, their families and to employees' continuous improvement.
"Any hospital visit is stressful, and iCARE University will enhance the experience patients and family have during visits to UTMC," Scarborough said. "We want to celebrate our wins, and at the same time we want to get better. I'm so proud of the men and women at UTMC and the higher degree of healing they provide."