Once-in-a-Lifetime Opportunity
---
Sierra Mayhew, 23, a graduate student focused on literary studies, meets Pulitzer Prize-winning playwright and Oscar-nominated screenwriter Tony Kushner Tuesday afternoon in the Center for Performing Arts Recital Hall, following his Q&A with College of Arts and Letters students.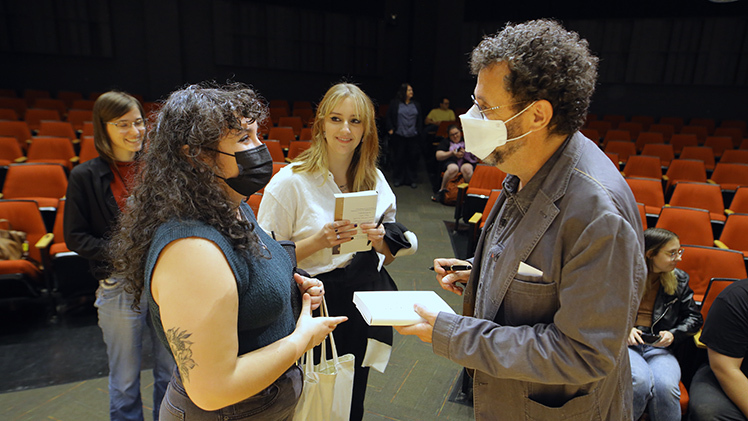 "I'm just so excited for this opportunity to listen to Tony Kushner speak," Mayhew said. "It's a once-in-a-lifetime opportunity. He is probably the single-most influential playwright of our generation right now. I just love everything that he's done."
Tuesday evening Kushner discussed his life and career at the annual Edward Shapiro Distinguished Lecture.
Kushner said he appreciated the opportunity to meet and engage with the students in a more intimate setting.
"When you get asked to do one of these things, you come and get up on stage and talk to a roomful of people," he said. "It's always fun but it's not necessarily informative in terms of where you are and what kind of people go to that school, so the chance to come to a smaller situation like this and sit and talk to the students directly is always the best part of this because it helps give me a sense of the school and the area and what the students are thinking and what they're interested in.
"I really enjoyed it and I really enjoyed meeting with them."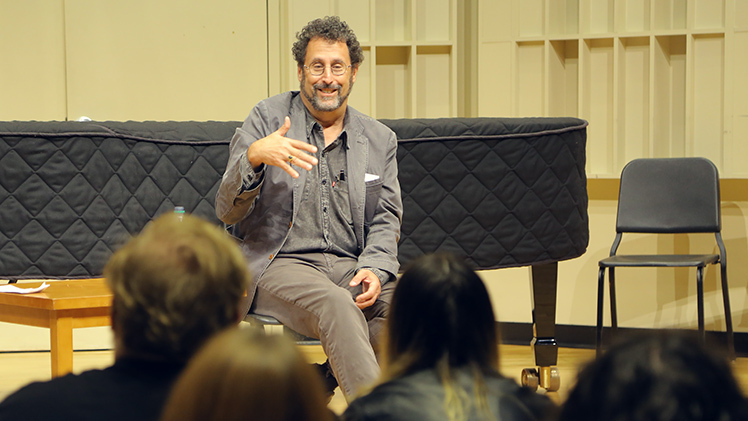 Kushner is best known for "Angels in America: A Gay Fantasia on National Themes," his two-part epic about the HIV-AIDS epidemic in the late 1980s which received the Pulitzer Prize for Drama and Tony Awards for Best Play in 1993 and 1994.
He received an Emmy Award for his adaptation of "Angels in America" to an HBO miniseries directed by Mike Nichols and a pair of screenwriting Oscar nominations for the Steven Spielberg films "Munich" and "Lincoln." In 2021, he wrote the screenplay to Spielberg's critically acclaimed remake of "West Side Story."
The annual lecture is made possible by the Shapiro endowment left by Dr. Edward Shapiro, professor emeritus of economics who retired in 1989, to provide opportunities for the University to bring world-renowned speakers to Toledo.
Past Shapiro Distinguished Lecture speakers include Elie Wiesel, Toni Morrison, Audra McDonald and Robert F. Kennedy Jr.