'100 Years of Toledo Football' on sale at UT Athletic Ticket Office, online
---
A commemorative history of Toledo Rocket football is on sale.
Published by The Blade, "100 Years of Toledo Football" can be purchased for $24.95 at the UT Athletic Ticket Office in Savage Arena or at the Glass Bowl on game day.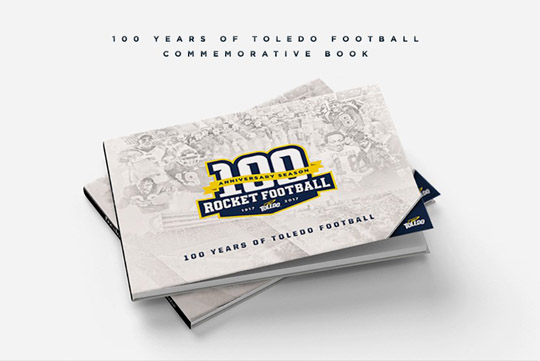 The book also will be available for purchase at The Blade, 541 North Superior St., or online at the official Toledo Athletics website, UTRockets.com, and at thebladevault.com/books.
The book features stories and photos from the past 100 years of Rocket football, from the founding of the program in 1917, right up to last season.
Included in the book is the Toledo Football All-Century Team, a collection of the greatest 50 players in UT history, as well as a list of the school's 10 greatest victories of all time.
"I know our fans will really enjoy this book," said UT Vice President and Athletic Director Mike O'Brien. "This will be a collector's item that every Rocket football fan will want to have. We would like to thank The Toledo Blade for helping us celebrate 100 years of football at our University by publishing this outstanding commemorative book."
"Many exciting moments are highlighted in this look at 100 years of great college football," said Kurt Franck, executive vice president, interim general manager and executive editor at The Blade. "The Blade sports department was there from the very first season, so it seemed a perfect fit for us to work with the University to share some of the great stories from over the years."
UT celebrated its 100-year anniversary of Rocket football at the Tulsa game Sept. 16. It was a fitting tribute as Toledo won a thriller, 54-51, on a walk-off field goal.