UT men's sports honored by MAC for highest GPA rank
---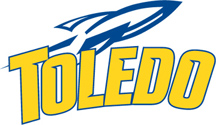 University of Toledo male student-athletes have been named the winners of the 2010-11 Mid-American Conference Faculty Athletics Representative Academic Achievement Awards for the second consecutive year.
The awards recognize the conference institution with the overall highest grade point average rank by gender.
The conference faculty athletics representatives worked with the athletic academic advisers to compute an award that best represents the academic achievement of student-athletes in a competitive setting. Using the same ranking method as the longtime Reese and Jacoby trophies (traditionally awarded to the best overall male and female athletic programs in the MAC), the Faculty Athletics Representative Academic Achievement Awards are given to those institutions' male and female programs with the highest overall GPA rank points within the conference. Only MAC-sponsored sports are eligible.
Using this formula, Toledo had the highest GPA rank average in 2010-11 with 10.8333 points. The Rocket men carried the highest league GPA in three MAC-sponsored sports (football, golf and tennis) in 2010-11. Four men's teams had combined team GPAs above a 3.0, with a high of 3.434 by the men's golf team.
As a department, UT came in second in the league for the Mid-American Conference Institutional Academic Achievement Award for the highest overall GPA, finishing just 1/100 of a point behind Akron. The Rockets had a department GPA of 3.13, while the Zips had a 3.14 mark.
"We want to extend our congratulations to all our men's sports for earning the Faculty Athletics Representative Academic Achievement Award for the second consecutive year," said UT Vice President and Athletic Director Mike O'Brien. "We are also proud that as a department, we came very close to earning our first-ever MAC Institutional Academic Achievement Award. Both of these achievements are testimony to the hard work and dedication of our student-athletes, as well as the coaches, administrators and faculty who support them."