Eberly Center offers lunchtime talks, discussions
---
The Catharine S. Eberly Center for Women will present the inaugural Lunch with a Purpose Tuesday, Sept. 27, at noon in Libbey Hall.
Lunch with a Purpose allows women researchers at The University of Toledo a venue to present their work to colleagues and specialists on campus and in the community, while fostering interdisciplinary discussions.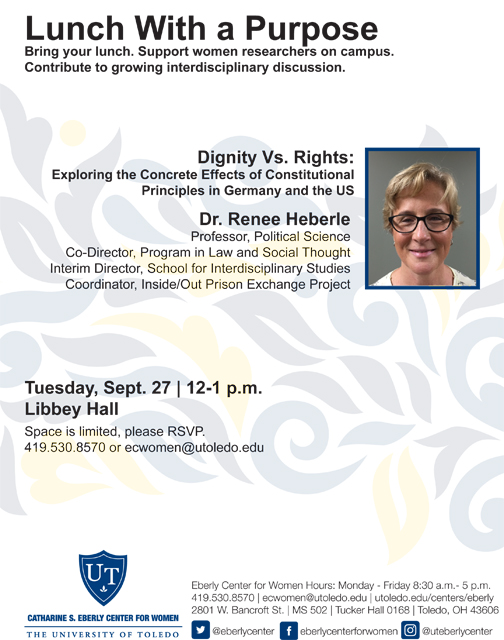 In honor of the impending voter registration deadline and the Eberly Center's ongoing support of campaigns to encourage all eligible citizens to engage in the political process, Dr. Renée Heberle, UT professor of political science, will present a talk titled "Dignity vs. Rights: Exploring the Concrete Effects of Constitutional Principles in Germany and the U.S."
As co-director of the Program in Law and Social Thought, interim director of the School for Interdisciplinary Studies, and coordinator of the Inside/Out Prison Exchange Project, Heberle's perspective reinforces the feminist principles of political action and teaching.
"We are glad to highlight our great women researchers and appreciate all the work of the new [Eberly Center for Women] Faculty Advisory Board to make this happen," said Dr. Shanda Gore, associate vice president for the Catharine S. Eberly Center for Women and the Minority Business Development Center. "From supporting the Association for Women in Science Mentoring Circle initiative, engaging students in our upcoming women in writing and business panels, and promoting professional development at the ACE Ohio Women's Network annual conference on Nov. 4, the Eberly Center continues to meet the needs of our students and faculty."
Campus and community members are invited to bring their lunches to hear Heberle and participate in discussion. Space is limited; call 419.530.8570 to RSVP.
Like and follow for the latest announcements from the Eberly Center at
https://www.facebook.com/eberlycenterforwomen and https://twitter.com/EberlyCenter.