Center for Religious Understanding to Screen Documentary
---
The Center for Religious Understanding at The University of Toledo is hosting a screening of "From Cairo to the Cloud: The World of the Cairo Geniza," a documentary film by Michelle Paymar.
The free, public screening will take place Thursday, Sept. 26, at 7 p.m. in the Center for the Visual Arts Haigh Auditorium on the University's Toledo Museum of Art Campus. Light refreshments will be served.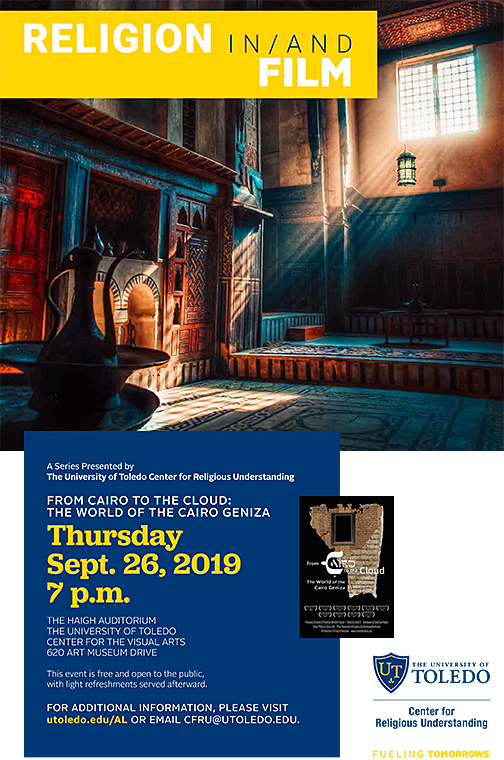 The film tells the story of Talmudic scholar Solomon Schechter's 1896 discovery of a collection of manuscripts in a sacred storeroom — or geniza — in Cairo. These ancient documents that revolutionized the understanding of Jewish history were dispersed around the globe to 70 libraries, but have been digitally brought back together for everyone to access online.
"This acclaimed documentary is a wonderful example of how the power of film can be harnessed to breathe life and excitement into lesser-known areas of academic scholarship," said Dr. Yonatan S. Miller, director of the Center for Religious Understanding.
"The film also tells the story of a Jewish community that flourished for centuries under Muslim rule. So this movie is truly at the intersection of scholarship and religious understanding, which fits our center's mission perfectly," added Miller, assistant professor of religious studies.
Miller also believes there's an Indiana Jones element to the film. He thinks of the delightful images of Schechter, who literally jumped into a pile of hundreds of thousands of geniza documents covered with 500 years' worth of dust, juxtaposed with the contemporary researchers who are using cutting-edge technologies to identify and decipher some of those same documents.
For more information on the event, email cfru@utoledo.edu.