Bowling event to bring together kids, men and women in uniform
---
Tensions between civilians and police have been on the rise recently, but a member of The University of Toledo staff is looking to change that stigma.
George W. Hayes Jr., UT electrician journeyman 2 and Toledo Bowling Senate junior coordinator, organized the Build-A-Trust Bowl-A-Thon to help bridge the trust level between people in the Toledo area with men and women in uniform.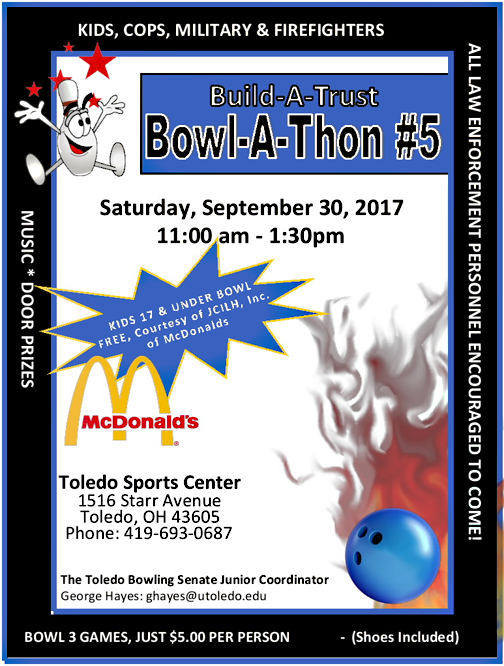 The event will take place Saturday, Sept. 30, at 11 a.m. at the Toledo Sports Center, 1516 Starr Ave. Kids, police, firefighters, military personnel, and members of the community are encouraged to attend.
With more than 30 years of working with kids, Hayes has seen firsthand many of the issues they face and hopes this event will help make Toledo a better place.
"With the issues going on around the country between the police and young folks, I think that this is a great way to try and bridge the trust level between the groups here in Toledo and the surrounding area," Hayes said. "It's good to get the community involved because this is not just a Toledo problem, this is nationwide."
The cost to bowl three games is $5 per person, including shoes. Kids 17 and younger bowl for free courtesy of Jon Harris of McDonald's, who helps sponsor the event.
There will be music and door prizes at the event, which is expected to bring in 200 people.
Hayes encourages all police, firefighters and military personnel to attend, regardless of where they live or work.
"Come out and have some fun with The University of Toledo Police and other officers if you are not afraid to get beat on the lanes by the young folks," Hayes said and laughed. "If you know how to have fun, fun and more fun and want to make a difference, come out and party with the crew."
For more information, contact Hayes at  george.hayes@utoledo.edu.