UT Medical Center Blood Drive slated for Oct. 6
---
The need is constant and the gratification is instant: Mark your calendars for The University of Toledo Medical Center Blood Drive, which will be held Thursday, Oct. 6, from 9:30 a.m. to 3:30 p.m. in Morse Center Room 3065.
Every two seconds, someone in the U.S. needs blood. Nearly 5 million people need blood transfusions every year.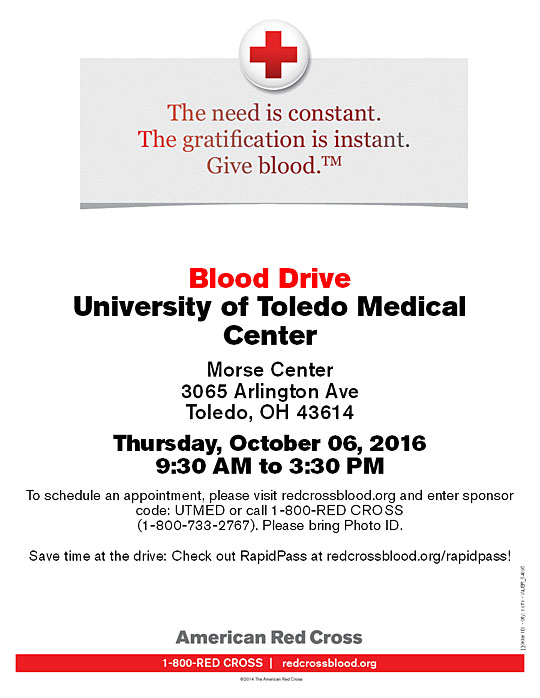 "We need to keep hospitals' inventories constant so they have enough blood on the shelf in cases of emergencies, as well as planned surgeries," Diane Smith, account manager at American Red Cross, said. "Blood products are perishable and need to be constantly replaced. The strength of the American Red Cross Blood Services lies in the active involvement of people who voluntarily donate blood to meet demands in their community."
The goal for this blood drive is 47 units of blood, she said.
Preparation is important when giving blood.
"Our No. 1 deferral is low iron, but there are many things you can do to raise the iron level in your blood. Eating foods rich in iron at least one week before the drive will help. You can search the Internet for lists of foods rich in iron. The benefit is that those foods will also give you more energy," Smith said.
"We also encourage pushing fluids the day before and the day of donation. Get a good night's rest, wear a short-sleeved shirt, and eat a good breakfast and lunch," she added.
Donors can save time at the blood drive by using Rapid Pass. On the day of the drive, log on to redcrossblood.org/rapidpass to read the required material and answer all the health history questions in advance. Print out the verification form or send it to your e-mail where you can access it with a smartphone. The verification form is needed to show at the drive.
To make an appointment, click here or call 1.800.733.2767. Donors must bring a photo ID on the day of the drive.
Volunteers are always needed to help register donors and help in the canteen on the day of the drive. Those who need community service hours can sign up here.