Benefits Open Enrollment Period Launched
---
The University's open enrollment period is now available through the end of the month for employees to make important choices about their health insurance.
UToledo now partners with Medical Mutual of Ohio as its medical plan carrier, requiring all employees to participate in open enrollment to make selections for their 2023 health benefits.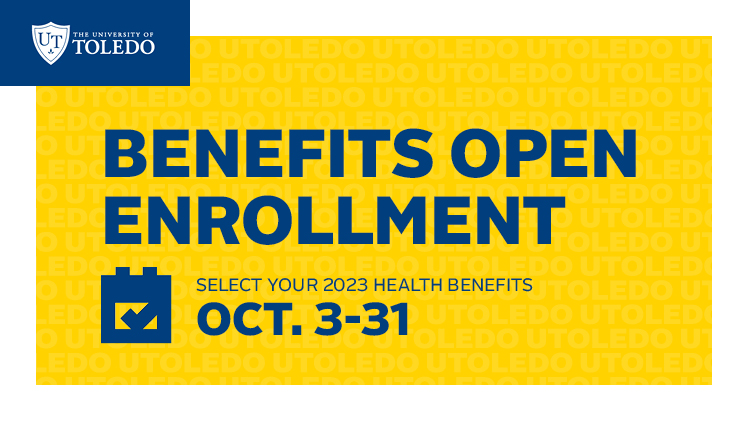 There is no premium increase for 2023 medical, dental or vision coverage plans. Employees also will not experience any increases to deductible, co-insurance, co-pay and other out-of-pocket expenses. Plan and premium information are available on the UToledo Employee 2023 Benefits website.
The Department of Human Resources is providing several opportunities for employees to learn more about 2023 benefits through individual consultations and benefits fairs.
The one-on-one virtual consultations with benefits specialists are available weekdays from Oct. 3 through Oct. 28. You can schedule an appointment on the open enrollment website.
Human Resources, Rocket Health and UTMC Pharmacies also will host a Benefits Fair on Wednesday, Oct. 12, at the Student Recreation Center on Main Campus and Thursday, Oct. 13, in the Morse Center on Health Science Campus. Both events are scheduled from 10 a.m. to 2 p.m.
"We are excited to announce that there will be no premium increases for medical coverage for the 2023 plan year as we take advantage of Medical Mutual's much broader network, excellent customer service and enhanced technology," said Mark Bercheni, senior director for total rewards.
If you participate in Health Savings Account or Flexible Spending Account elections, you must assign your deductions in the open enrollment portal.
All employees need to complete the open enrollment selections by the Oct. 31 deadline.