International Prostitution, Sex Trafficking Conference at UT Oct. 7-8
---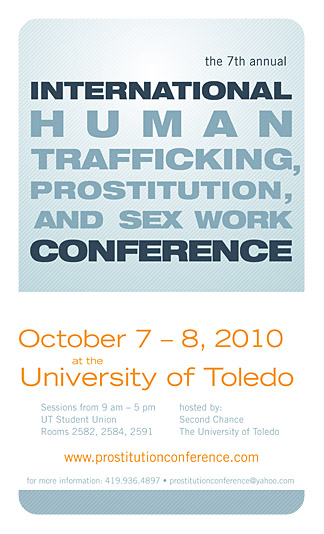 For the first time, there's an estimate for the number of victims of sex trafficking in Ohio: The University of Toledo's Dr. Celia Williamson said nearly 2,000 women, boys and girls are being forced to sell their bodies.
She'll present details of her research at the Seventh Annual International Conference on Human Trafficking, Prostitution
 and Sex Work at UT Thursday and Friday, Oct. 7 and 8, in the Student Union on Main Campus.
"Sex trafficking permeates our society, and in a way that would shock most people," said Williamson, UT professor of social work and founder of Second Chance, a social service program located in Toledo, Ohio, that provides comprehensive services to victims of domestic sex trafficking and prostitution.
"More than half the victims in Ohio are local residents forced into sexual slavery by pimps who threaten harm to the girl or to her family," she said, pointing to recent coverage by CNN and other news organizations of prostitution services posted on the free classified ad website Craig's List. "Those stories showed a bit more of the iceberg than people usually see, but the vast majority of the problem is still underwater."
Of the more than two dozen presenters coming from across the world, Dr. Christine Milrod will present demographic information on "hobbyists," those men who use Internet sites, such as Craig's List, to find sexual service providers.
Williamson said one of the more effective tools she and her colleagues have implemented is a "John" school, a required education class for men arrested for soliciting sex. It includes HIV testing and detailed information on the effects of human trafficking, and has resulted in a substantial drop in recidivism.
"For many of these men, showing them the human side of the effects of prostitution alone will prevent a recurrence. Many just fundamentally misunderstand and believe women are selling sex because they want to," Williamson said.
Presentations throughout the conference will include representatives from the FBI and other law enforcement agencies. In fact, the research Williamson will present was announced in February and commissioned by Ohio Attorney General Richard Cordray. Williamson said both Cordray and State Sen. Teresa Fedor will be honored at the conference for their efforts to combat sex trafficking.
With presenters coming from as far away as India and Nigeria and with topics ranging from calls for legalizing prostitution to legal efforts to shut down the trade, Williamson said the conference is designed to cover the spectrum of thinking and research into sex trafficking and prostitution.
"Prostitution is still the only crime where the victim goes to jail. The more information we can get into the public consciousness the better because sexual slavery isn't just some third-world phenomenon. It's happening right here in suburban Ohio," Williamson said.
For more information on the conference, including how to register, click here.