Author to discuss opportunities for small cities to lead green economy
---
Toledo and other small to mid-sized cities can be a critical part of a sustainable future and a productive green economy, according to journalist and historian Catherine Tumber.
Tumber, the author of Small, Gritty and Green: The Promise of America's Smaller Industrial Cities in a Low-Carbon World, will visit Toledo Oct. 5 to discuss her book and engage local leaders in a discussion about the community's efforts to create a sustainable future for northwest Ohio.
"While small- to mid-sized cities have been hit hard by deindustrialization, outsourcing, urban sprawl and other factors, Tumber argues in her book that they also have been virtually invisible to big cities and small towns in the Wall Street versus Main Street matchup," said Sue Wuest, assistant director of the UT Urban Affairs Center. "We are excited to have her discuss her book and engage local leaders in what we can do here to make the most of the opportunities available to small and medium industrial cities like Toledo."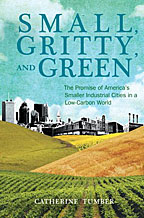 Tumber, who has spent much of her life in Rust Belt cities, traveled to 25 cities in the Northeast and Midwest interviewing planners, city officials and activists in an exploration of small-scale urbanism. In Small, Gritty and Green, she suggests that smaller to mid-sized cities offer what big cities and small towns cannot: population density, fertile farmland nearby available for agriculture, windmills and solar farms, and a manufacturing infrastructure and skilled work force that can be repurposed for renewable energy technologies.
Tumber's presentation will begin at 8 a.m. Friday, Oct. 5, in Seagate Convention Center Room 209 and will be followed by a discussion with government officials, academics, sustainability advocates, community leaders and others.
Those interested in attending are asked to RSVP via email to uac@utoledo.edu.
Visit uac.utoledo.edu for more information.