UTMC patient to hold book signing on Health Science Campus
---
What began as a joyful motorcycle ride with her husband soon became a nightmare for then 56-year-old Sandy Blank.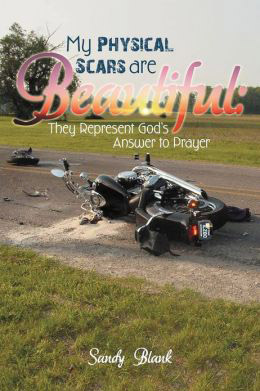 Blank's life changed forever May 28, 2006, when her Yamaha 1100 collided with a vehicle. The impact nearly killed her; she broke both legs, her left wrist and arm, two fingers on her right hand and her right elbow, and her pelvis and ribs. She also ruptured her spleen and liver.
After the accident, Blank was sent to The University of Toledo Medical Center, where she underwent 42 separate operations in the care of Dr. Nabil Ebraheim, professor and chair of orthopedics.
Although her left arm is locked in a 30-degree angle and she sometimes limps and has problems with dizziness and balance, Blank feels lucky to be alive. She is sharing her story with her book, My Physical Scars Are Beautiful: They Represent God's Answer to Prayer.
Blank will hold a book signing at UTMC Wednesday, Oct. 9, from 10 a.m. to 1 p.m. in the new pavilion next to the Orthopedic Center.
The tragic accident changed Blank's life forever, but the Monroe, Mich., native still enjoys riding along with her husband on his motorcycle.
"I don't want to steer people away from motorcycle riding, but I think people should wear a helmet," Blank told The Blade earlier this year. "I wore one, and if I hadn't, I wouldn't be here today. I suffered all these injuries to my body, but not to my head, and that's because of my helmet."