Program featuring presidents to encourage students to succeed
---
When trying to inspire students to succeed after college, who better to reach out to than those at the top.
"Straight Outta College: Exclusive Interviews With the Presidents" will spotlight three presidents: Dr. Johnnetta B. Cole, director of the Smithsonian National Museum of African Art and former president of Spelman College; Dr. Sharon L. Gaber, president of The University of Toledo; and Dr. Brian Kennedy, president, director and CEO of the Toledo Museum of Art. The free, public event will be Friday, Oct. 9, at 10 a.m. in the Driscoll Alumni Center Auditorium.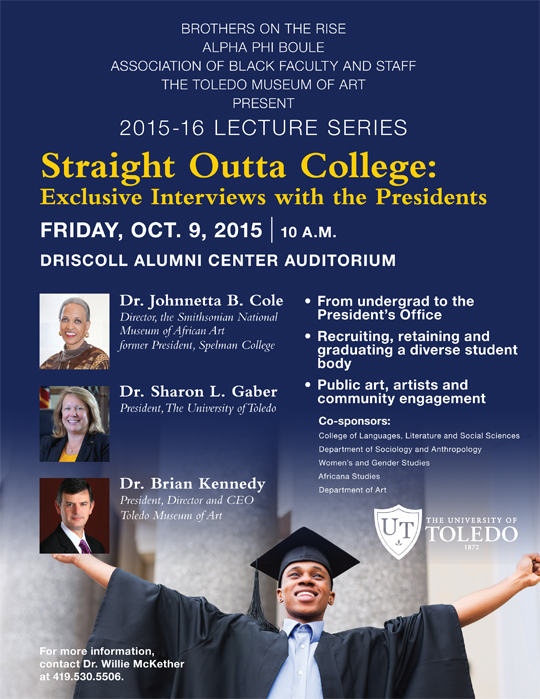 Leaders will start by giving a brief history of their journey to their respective presidencies. Then the floor will be opened to students to ask questions about the panelists' roads to success.
"All of our guests are very much accomplished, and we want students to walk away with the feeling that 'I, too, can achieve just as these individuals have,'" said Dr. Willie McKether, associate professor of anthropology and associate dean in the UT College of Languages, Literature and Sciences, and president of Brothers on the Rise, a program that helps UT males, especially African-American and Latino, make the transition from high school to college.
Given the backgrounds of each speaker, McKether anticipates the conversations to surround strategies for student success, retention, graduation, the role of art in community building and engagement, and the importance of museums in the community. All of these are topics he feels are beneficial for students to know about and appreciate.
All students are strongly encouraged to attend to learn how to become an effective leader in an organization, he said.
"Presidents are people, too, and they have a journey story to tell," he said. "Each president will have an important story, and I want students to walk away with an understanding that despite whatever their circumstances may be, they, too, can achieve."
In addition to Brothers on the Rise, the Straight Outta College event is presented by the UT College of Languages, Literature and Social Sciences; the departments of Sociology and Anthropology, Women's and Gender Studies, Africana Studies, and Art; Alpha Phi Boule — which is the local chapter of the service-based professional fraternity Sigma Pi Phi; the Association of Black Faculty and Staff; and the Toledo Museum of Art.
For more information, contact McKether at 419.530.5506.