New interactive campus maps launched
---
The online interactive campus maps that have served UT for the last two years have been improved and are available online, according to Eric Eitniear, coordinator for web development and design.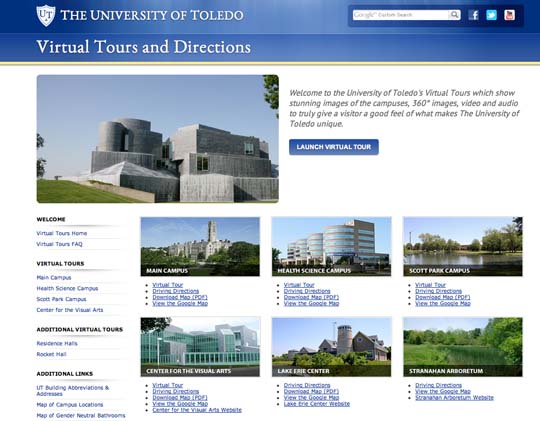 "We've included direct links to important pages such as admission, visit campus and apply now," Eitniear said. "The new version shows high-resolution images of the UT campuses, 360 images, video and audio to truly give a visitor a good feel of what makes The University of Toledo unique."
Eitniear said virtual tours of UT are important to recruitment efforts since prospective students seeing the campuses are more likely to enroll.
The virtual tours encourage visitors to sign up for an on-campus tour, and apply and request more information, which are all important recruitment steps.
Other improvements include a more user-friendly version for iPad users, as well as the ability to accommodate larger photos and 360-degree views across all types of software platforms.
iPad users now can view the map as they would on any other platform because the new maps do not use Adobe Flash Player. Because Apple did not support the player on the iPad, a different tour page previously had to be built specifically for iPad viewing.
"In the future, more interior shots of the Student Union and many of the student residence halls will be added to the map," Eitniear said.
Eitniear and Jamie Carothers, a software engineer, worked on the innovative tours project. Both are members of the Center for Creative Instruction team.
Check out the new maps.