UT schedules events to raise awareness during Domestic Violence Awareness Month
---
Every day, thousands of people are affected by domestic violence. October is Domestic Violence Awareness Month, and the University will host a number of events on campus to help educate UT and community members about the reality of domestic violence and prevention.
"We are hoping that students, faculty and staff will be involved with programs this month in hopes to continue creating a culture that cares on UT's campus," said Jamie Wlosowicz, graduate assistant for the Sexual Assault Education and Prevention Program. "These programs will let survivors know that they are supported and they are not alone. We educate campus community members to start and continue conversations about these issues so we can continue to combat domestic violence and intimate partner violence."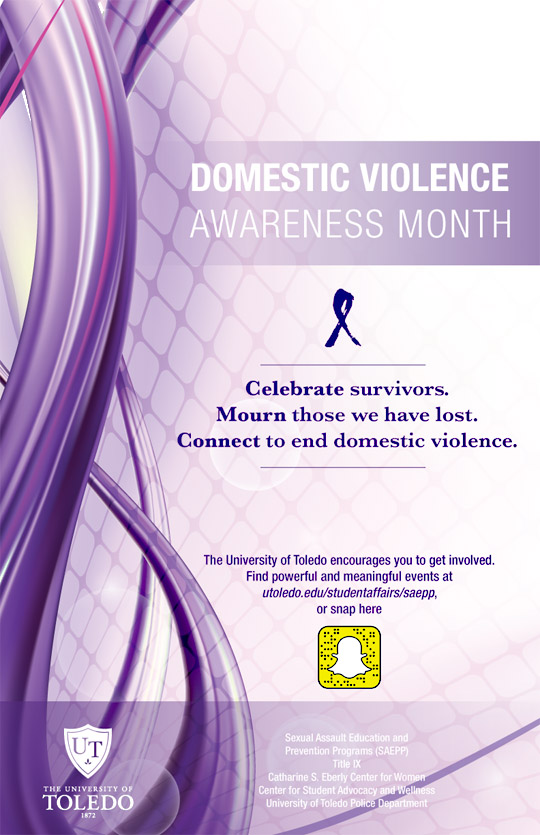 The events are meant to help facilitate conversation on issues faced on college campuses nationwide and to promote positive change.
"We are very fortunate to have a strong, supportive UT community committed to the fight against domestic violence," said Lindsay Tuttle, UT sexual assault and prevention education coordinator.
Listed by date, events will include:
• Wednesday, Oct. 11 — Bring in the Bystander Training, 6 p.m., Snyder Memorial Building Room 1100. Learn how to safely intervene in instances of sexual violence, relationship violence or stalking.
Thursday, Oct. 12 — Purple Ribbon Campaign, 11 a.m., Thompson Student Union. Take the pledge to never commit, condone or remain silent about domestic violence by wearing a purple ribbon.
• Thursdays, Oct. 12, 19 and 26; and Wednesday, Oct. 25 — Self-Defense Class for Women, 5:30 p.m., Catharine S. Eberly Center for Women. Learn techniques to defend against an attacker. Must sign up in advance. Free for students; $25 for community members. For more information, call the center at 419.530.8570.
• Wednesday, Oct. 15 — be-WISE-er, 6 p.m., Thompson Student Union Auditorium. Learn how to administer intranasal naloxone and experience a 3D multisensory interactive presentation on the devastating effects of drinking and driving.
• Thursday, Oct. 19 — The Silent Witness Project, 11 a.m., Thompson Student Union Trimble Lounge. See life-size silhouettes and read the stories of local women and girls who lost their lives due to domestic violence.
• Oct. 23-27 — Awareness Campaign, Centennial Mall and Thompson Student Union. See red flags and awareness facts and myths about domestic violence.
• Tuesday, Oct. 24 — Once Love, Escalation Training, 6:30 p.m., location to be announced. Discuss how to identify the signs of emotional, mental, sexual and physical abuse.
• Thursday, Oct. 26 — Self-Defense with the UT Police Department, 6:30 p.m., Student Recreation Center. Learn personal safety tips and self-defense tactics in a safe and comfortable setting.
For more information, call the UT Sexual Assault Education and Prevention Program at 419.530.3431 or stop by its new location in the Title IX Office in Snyder Memorial Building Room 1120.