Johns Hopkins professor to discuss electricity and the brain
---
Electricity as a medical treatment has changed over the years. These advancements will be the topic of the sixth annual S. Amjad Hussain Visiting Lecture in the History of Medicine and Surgery on Thursday, Oct. 16.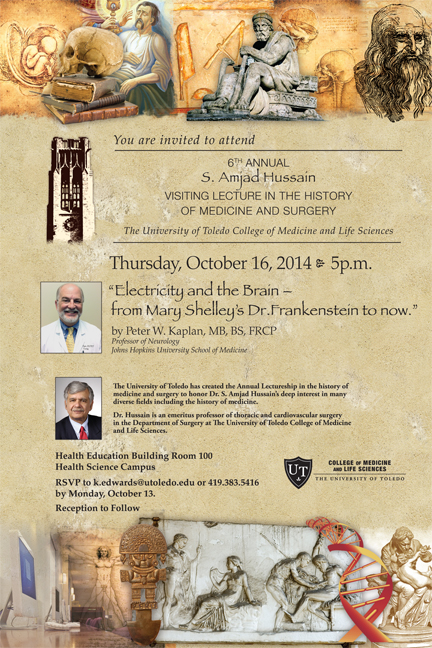 Dr. Peter W. Kaplan, professor of neurology and director of epilepsy and electroencephalogram at Johns Hopkins Bayview Medical Center, will come to The University of Toledo to present "Electricity and the Brain — From Mary Shelley's Dr. Frankenstein to Now."
The free, public lecture will be at 5 p.m. in Health Education Room 100 on UT's Health Science Campus.
Kaplan will cover practices that were performed by scientists and educational institutions during the 18th century and how they led to today's knowledge of the brain.
The visiting professor received his medical training from St. Bartholomew's Medical School, University of London, and completed his residency in neurology at Duke University School of Medicine, where he also completed fellowships in epilepsy and clinical neurophysiology.
He has written many works involving his specializations in clinical neurophysiology, epilepsy, epilepsy and pregnancy, and neurology, including Neurologic Disease in Women, Imitators of Epilepsy and A Practical Handbook for Neurology Consults.
The lecture series is named after Dr. S. Amjad Hussain, an award-winning writer and photographer and an internationally known explorer. Hussain holds an emeritus professorship in cardiothoracic surgery in the UT College of Medicine and Life Sciences and currently sits on the UT Board of Trustees.
To RSVP, contact Karen Edwards at k.edwards@utoledo.edu or call 419.383.5416.