Rockets offer $10 Community Day tickets for Oct. 17 game
---
The University of Toledo is thanking the community for its great support of the No. 22 Rocket football team by offering $10 Community Day tickets for the Saturday, Oct. 17, game vs. Eastern Michigan. Kickoff in the Glass Bowl will be at noon.
Groups may receive the discounted tickets if they buy 10 or more tickets. Tickets must be purchased prior to game day.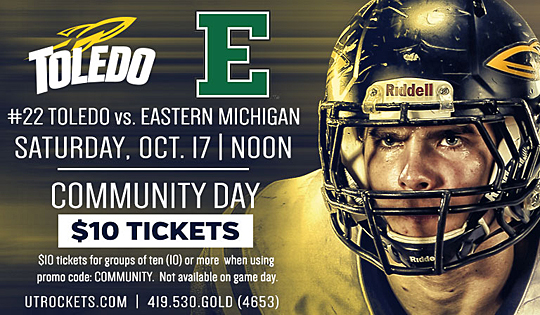 Community Day tickets may be purchased at the UT Athletic Ticket Office, online (see details below) or by phone at 419.530.4653. The ticket office is open until 7 p.m. this week.
The Rockets are 5-0 this season and ranked No. 22 in the country by the Associated Press. It is the highest ranking for a Toledo team since 2001, which is also the last time UT began the season with a 5-0 record.
To order tickets online, click here and enter promo code COMMUNITY. The purple plus button will appear for promotions.Select seats (minimum of 10 tickets/seats per customer at the $10 ticket price) and hit continue.
Confirm selected single game tickets, seat location, ticket price and game information, and then select delivery option and proceed to checkout. Create an account or login if an existing online UT ticket customer. Fill out or update customer information and then complete payment information and process payment.
Print tickets, receipt and have fun at the game.
Note: Online orders include an additional $3 fee per ticket.