Center for Health and Successful Living opens
---
It may have been more appropriate for the ribbon cut in front of the new Center for Health and Successful Living to be pink rather than red, but the symbolism was the same.
Dignitaries and directors were joined in opening the center by Gladys Thompson, a 12-year breast cancer survivor and mother of co-director Dr. Amy Thompson.
"Witnessing her breast cancer journey and her struggles was the catalyst for the idea of this new center," said Thompson, professor in the College of Health Sciences. "Our goal is for it to be a beacon of light, hope and support for breast cancer survivors and their families and to help reduce the risk of others developing breast cancer."
The center is a community hub of resources, education and support for people living with chronic disease and those who seek to improve their health. Rocket Wellness, a health and wellness enhancement program for the UT community, and the Center for Successful Aging, a program for older adults and their families, also are housed in the center and will share several services.
The center is located in Health and Human Services Building Room 1100 on Main Campus.
President Lloyd A. Jacobs and Dr. Jeffrey Gold, chancellor and executive vice president for biosciences and health affairs, and dean of the College of Medicine and Life Sciences, lauded the center's teamwork approach in creating support services that extend beyond medical care to encompass recovery components such as socialization, exercise, spirituality and community services.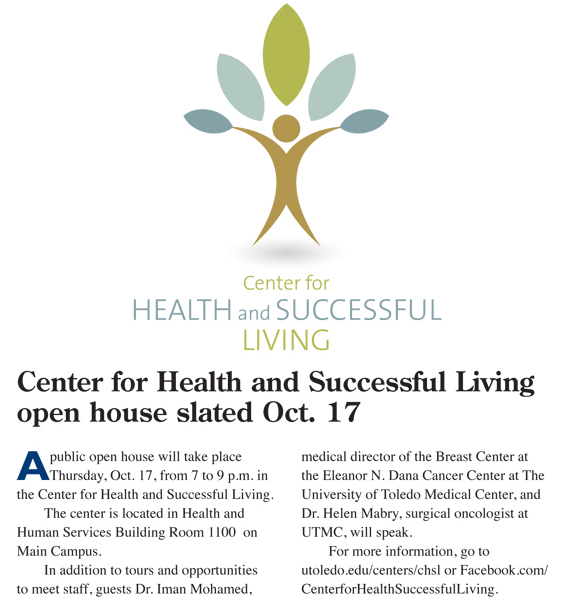 Dr. Timothy R. Jordan, professor in the College of Health Sciences and co-director of the center, commented, "One unique aspect of the center's design is its emphasis on interdisciplinary teaching, learning, research and community service conducted by professors and students within the College of Health Sciences. Because these programs and services are led by faculty and students as part of academic course work, we can offer them free of charge to the community."
Services include:
• Walking/physical activity programs;
• Support groups;
• Nutrition counseling;
• Book club for survivors;
• Recreation therapy; and
• Mammography and clinical services support.
Services planned in the future include social work, physical and occupational therapy, legal services, tobacco cessation, health and wellness counseling, education and social events.
The following organizations are collaborating partners with the center: Susan G. Komen of Northwest Ohio, the American Cancer Society, the Toledo-Lucas County Health Department, the Toledo-Lucas County Commission on Minority Health and the Zepf Center.