Wrangle up some fun at 'Wild, Wild Midwest' Homecoming
---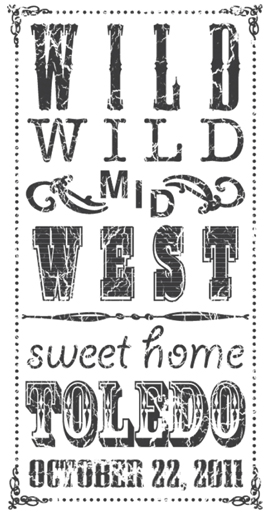 Saddle up, pardner, and ride to The University of Toledo to celebrate "Wild, Wild Midwest — Sweet Home Toledo."
"The Homecoming Commission came to a consensus on a Western theme because there were many events we could plan around that theme," said Aaron Dau, a senior and Homecoming commissioner. "A Western theme allows for a lot of creativity with groups entering floats and cars in the Homecoming Parade."
Y'all are invited to round up some spirit and fun on Main Campus this week.
"Homecoming is a special time for the UT and Toledo communities because everyone comes together to show off their Rocket pride," said Dau, who is majoring in political science and law and social thought. "It's one of a handful of events that take place at the University where the UT and Toledo communities get involved with the Homecoming Parade and with the events in the week leading up to the big Homecoming game."
Homecoming week events will include:

Wednesday, Oct. 19
• Office Decorating Contest — all offices participating must be decorated by 9 a.m.
• Western-Style Barbecue, noon to 2 p.m., Centennial Mall.
• Texas Hold 'em Tournament and Pi Beta Phi Mocktails, 7 p.m. to midnight, Student Union Auditorium.
Thursday, Oct. 20
• UT Spirit Day Field Games, 4 to 7 p.m., the Flatlands. Pony up for the $1 events!
• Hot Dog Eating Contest sponsored by Jeff Traudt from State Farm Insurance, 4 p.m., the Q Pavilion, located behind Parks Tower.
• Chili Cook-Off, 6 to 7:30 p.m., the Flatlands. Register at utoledo.edu/homecoming/events.html.
• Talent Show sponsored by the National Pan-Hellenic Council, 7 p.m., Doermann Theater.
• Sweet Home Campfire/Pep Rally, 8 to 10:30 p.m., the Flatlands.

Friday, Oct. 21
• Homecoming Alumni Gala and Awards Ceremony, 6 p.m., Student Union Auditorium. The Alumni Association will present this year's Blue T, Gold T and Edward H. Schmidt Young Alum awards. Tickets are $30 per person. Members of the Student Alumni Association may use their free event benefit to attend. For more information or to make reservations, call the Alumni Relations Office at 419.530.ALUM (2586).
• Parents Weekend Dive-In Movie, 7:30 p.m., Student Recreation Center.
Saturday, Oct. 22
• Edward C. Schmakel Homecoming Parade, 11 a.m. Sponsored by Blue Key, the parade will begin at West Bancroft Street and go to Middlesex Drive to Hughes Drive to Cheltenham Road and end back on West Bancroft.
• UT Alumni Association Tailgate Tent, 4 p.m., on the tennis courts outside Health Education Center. Free hot dogs, chips and non-alcoholic beverages; beer available for $2 with valid state ID. Live music by Five O'Clock Rush.
• UT vs. Miami Homecoming Game, 7 p.m., Glass Bowl. See you at the game! Cheer on the Rockets and see the crowning of the Homecoming king and queen. Tickets are $24 for reserved seating; $12 for children 12 and younger; half off for UT faculty and staff; and free for UT students with IDs.
For more information, go to utoledo.edu/homecoming/events.html or call the UT Alumni Relations Office at 419.5302586 or the UT Office of Student Involvement at 419.530.4944.