Local organization, UT bring in comedians to raise awareness of human trafficking
---
Human trafficking is no laughing matter. Yet three comedians will come to the Glass City to raise awareness with a comedy show at The University of Toledo.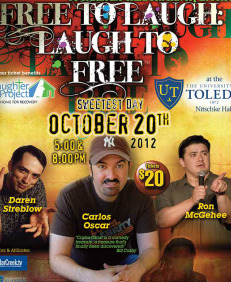 The event, Free to Laugh, will take place Saturday, Oct. 20, in Nitschke Hall Auditorium with shows at 5 and 8 p.m.
Comedians Ron McGhee, Carlos Oscar and Daren Streblow will provide a night of family friendly entertainment while shedding light on this widely underpublicized issue.
"It is our goal to help raise awareness about sex trafficking within our community," said Jeff Wilbarger, director of the Daughter Project, a local organization focused on fighting human trafficking. "This is a heinous crime around the world and within northwest Ohio."
Started by a pastor in Arizona, Free to Laugh events have raised more than $100,000 during the last three years and are taking place in six U.S. cities this year.
In addition to the comedians, attendees will be able to hear talks from Dr. Celia Williamson, UT professor of criminal justice and social work, and Ohio Rep. Teresa Fedor. Both have been involved in raising awareness and helping victims of human trafficking.
According to United Nations estimations, about 21 million people suffer from human trafficking worldwide, making it one of the most profitable areas of organized crime.
"Most people are woefully unaware of the amount of trafficking that takes place locally and globally," Wilbarger said.
Citing reports from the Ohio Trafficking Commission, Wilbarger stressed that it is a big community problem, with Toledo ranked fourth in the country among all U.S. cities. Ohio has an estimated 2,000 trafficking victims.
"Trafficking of adolescents is actually 'child rape for profit,' and I think if we would call it what it is, then more people would be truly outraged and, in turn, be truly inspired to help," he said.
Tickets are $20 with all proceeds donated to the Daughter Project.
For more information, visit thedaughterproject.org.